[Tori Bortman]
Here's something I could really use…Tori Bortman has started a mechanic school in her basement. An experienced mechanic (most recently at North Portland Bikeworks) and teacher, Tori is offering both structured courses and one-on-one tutoring. According to Tori:
"…there seems to be a need for folks who are looking to learn how to care for their bike but may be intimidated or lacking the time to go to one of the local shops. This is an opportunity to offer people a personal setting to learn mechanics where they can get the most attention and learn at their own pace."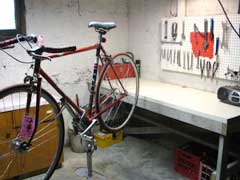 Her six-week course costs $100 per person and covers everything from flat repair to derailleur adjustments and wheel truing. She also offers private lessons at $20/hr if you've got a specific problem you need help with.
Tori hopes to someday turn her business into a full-time charter school based around bicycles where high-school aged students would learn about everything from the business aspects of the bike industry (running a shop, working for a bike company, becoming a framebuilder, etc…) to the science behind welding.
Her first sessions are enrolling right now so if you're interested, drop her an email (gracieswrench@gmail.com) or call (503) 460-2374.