rumble strips
Friday, June 13th, 2014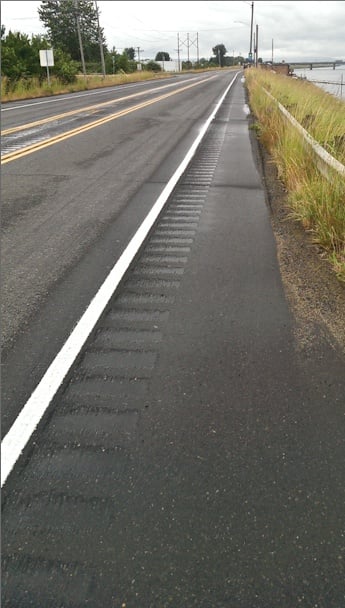 Rumble strips on Marine Drive intended to prevent "lane departure crashes".
(Photos sent in by reader Dachines.)
Thursday, June 28th, 2012
A treatment like this one on NE Couch
near the Burnside Bridge, might be
coming to Marine Drive.
(Photo © J. Maus/BikePortland)
Earlier this week, I shared that the Bureau of Transportation was considering the installation of rumble strips out on NE Marine Drive. Citing stats that show a higher than average amount of "lane departure" collisions involving motor vehicles, PBOT felt rumble strips would help alert drivers that they were leaving the roadway.
A big issue with rumble strips, however, is that they can cause problems for people on bikes.
Today I'm happy to report that PBOT heard concerns from the community and it looks like they'll be looking to other solutions.
In an email to Oregon Bicycle Racing Association director Kenji Sugahara, PBOT bike project coordinator Jeff Smith wrote that, "Thanks to all of you for your insightful comments…we're going to examine other treatments that are more benign to cyclists." (PBOT reached out to OBRA specifically, because Marine Drive is very popular with serious riders who use the route for training and long weekend rides.)
(more…)
Tuesday, June 26th, 2012
Ready to rumble?
(Photo: Missouri DOT)
As part of their ongoing High Crash Corridors program, the Portland Bureau of Transportation (PBOT) is considering installing rumble strips on NE Marine Drive.
PBOT bicycle projects staffer Jeff Smith is currently looking for feedback on the plan. Since Marine Drive is a very popular route for weekend riders and racers training for competition, Smith has emailed the idea to local riding groups like the Portland Wheelmen Touring Club and the Oregon Bicycle Racing Association.
PBOT is focusing on Marine Drive (between I-5 and NE 185th) for a safety analysis and improvements because it has a "substantially higher" fatality rate that the citywide norm (17 out of 1000 crashes is fatal, compared to 3 out of 1000 citywide). Adding to the safety issues on the street are high speeds and a lot of truck traffic. According to PBOT data, between NE 33rd and 185th, an average of 82% of all motor vehicles exceed the speed limit (with about 11% exceeding the posted speed by 10 MPH or more).
(more…)