Posted on September 15th, 2009 at 12:47 pm.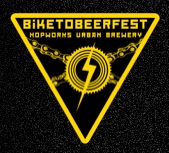 Bikes and beer will be celebrated in true Portland style this weekend at Biketobeerfest, a carfree event being thrown by Hopworks Urban Brewery (HUB). The event is Saturday, September 19th, from noon to 10pm. And it's totally free and open to the public.
There's one catch — the event is carfree. There will be plenty of bike parking right outside the entrance, but no car parking. The block of SE 29th next to the bar will be carfree. And attendees are asked not to arrive by car.
[more…]