Posted by Michael Andersen (News Editor) on April 25th, 2014 at 9:11 am
The city's new "interim solution" for the Buckman/Kerns commercial district (that is, keep things pretty much like they are now).
(Photo by J. Maus/BikePortland)
The Portland Bureau of Transportation on Thursday backed off from its proposal to replace about 100 auto parking spaces on 28th Avenue near Burnside with a buffered bike lane.
Available auto parking is "a very, very big deal" for neighborhood commercial districts like this one, project manager Rich Newlands told the 20s Bikeway Project stakeholder advisory committee at their meeting last night.
The city completed its first multi-street count of the neighborhood's parking demand in time for Thursday's meeting, which had been slated as the committee's last. The results showed that many nearby blocks in the free-parking neighborhood were near capacity.
Below is PBOT's "Parking Demand Map" showing that both sides of 28th through the commercial district are at "100% observed parking utilization":
Instead of further straining the area's free parking, Newlands said, the city is recommending an "interim solution" for the commercial district that takes three steps to improve biking through the area:
"What is the right amount of parking? We can agree or disagree. But people who actually have skin in the game are businesses. They will have a very loud voice at city council."
— Rich Newlands, PBOT
Improve 30th Avenue into a neighborhood greenway between NE Oregon and SE Stark streets, creating a lower-stress alternative to pedaling on 28th (but forcing north/south riders to head two blocks out of their way and back)
Preserve a "line on the map" on 28th Avenue that would theoretically be improved for riders of all ages and abilities after the city has overhauled its parking policy.
Use several traffic calming tactics on 28th Avenue between Oregon and Stark: fire-truck-friendly speed bumps, zebra crosswalks, a posted 20 mph speed limit and possibly green-backed "super sharrows."
Unfortunately, Newlands and two city traffic engineers said, the first two strategies are likely to limit the possibilities for the third.
Because the city is spending much of its $2.4 million budget creating new traffic signals for the new side-street greenway (which will run parallel to the "official" bikeway at various points south of Interstate 84) it has less money to spend on traffic calming measures such as textured pavement. And because the city is still trying to preserve street space for a future bike facility on 28th, it's recommending against new pedestrian bump-outs, pillars or other physical obstructions there.
Newlands said the city's reversal was informed by what he described as a negative response to parking removal at a series of public open houses. (He interpreted some of the comments differently than we did.)
Detail from photo of the city's new staff proposal for the central section. Digital copies were unavailable Thursday night.
(Click to enlarge.)
Another factor: a petition, signed by almost every business on the strip, that urged the city to scrap its buffered bike lane plan through the district in order to keep auto parking (a plan that the Bicycle Transportation Alliance called a "step in the right direction")
"What is the right amount of parking?" Newlands asked Thursday. "We can agree or disagree. But people who actually have skin in the game are businesses. They will have a very loud voice at city council."
Sarah Holliday of Staccato Gelato at 232 NE 28th, who said she bikes to her storefront herself, said she'd started the process thinking differently." I was willing to maybe give up parking on 28th; it didn't seem so onerous to me," she said. "But the more I learned about 30th Avenue, the more I didn't see, if that is there, why removing parking on 28th is necessary."
"We don't have public transportation down 28th any more, and it's kind of a hard neighborhood to get to," Holliday went on. "People drive."
BTA: 'Couplet' had been a compromise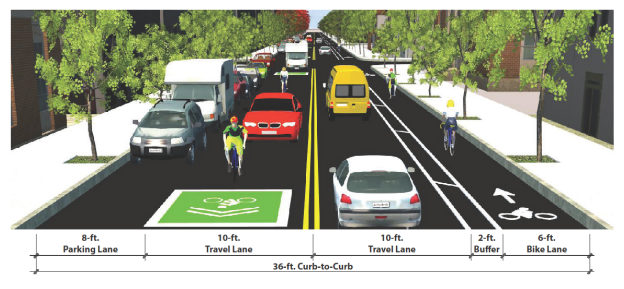 The city's opening bid for a 28th Avenue bikeway: one shared lane and one buffered bike lane, plus a nearby neighborhood greenway.
Carl Larson, the Bicycle Transportation Alliance's representative on the committee, said the "nine-mile neighborhood greenway" that the 20s Bikeway has largely become will be "a much-needed north-south route."
But Larson was disappointed to see the so-called "couplet" proposal fail. Even that, he said, had never actually been a great bike facility.
"We saw the couplet as a good compromise, but what's truly best for bicyclists and 28th Avenue businesses is a direct two-way connection on 28th," Larson said. "It's clear that the city has a lot of work to do and more tools to develop in order to make 28th the major city bikeway that it has been slated to become since the 70s."
Email This Post