Posted by Michael Andersen (News Editor) on November 18th, 2013 at 12:17 pm
One of the most important bike-related projects in the city right now is at that wonderful point in its life-cycle where interesting ideas have a chance to take root. But some fear they won't.
The Bureau of Transportation's 20′s Bikeway Project will create the only continuous, street-level north-south bikeway in all of Portland, running essentially from the city's southern border to the Columbia River. Though its length means that there are numerous issues involved, the most complicated stretch runs through a much-trafficked "streetcar suburb" on 28th Avenue between SE Stark Street and NE Sandy Boulevard.
The big question for this area is how (or whether) to make the bikeway comfortable enough so that people "8 to 80″ years old will want to bike through the popular commercial district, just as the city's Bike Plan for 2030 recommends.
At a stakeholder advisory committee meeting last week, the city laid out the latest possibilities for answering that question. The most interesting part of the plan would create Portland's first two-way protected bike lane on 28th between Wasco, which is north of I-84, and Buxton, which is just north of Glisan.
For the section just south of Sandy, PBOT project manager Rich Newlands suggested a facility that would move bike riders up onto a "Two-way blended ped/bike corridor" for one block (a newly paved area marked in teal below) and then across a painted bike crossing to run at road level for the southern block: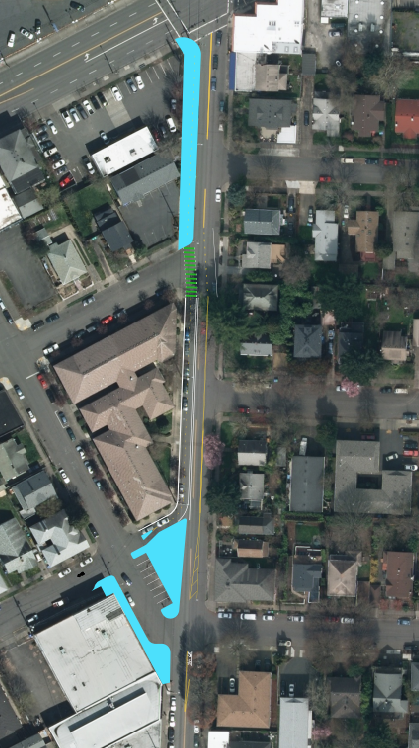 Under one concept, the west side of 28th would have bike lanes in both directions.
Email This Post