Posted by Jonathan Maus (Publisher/Editor) on August 17th, 2010 at 1:04 pm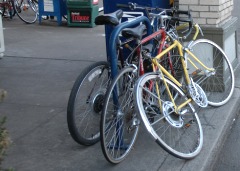 Not recommended unless
you are friends.
(Photo © J. Maus)
This week's Ask BikePortland question comes from Daniel C. He had a disagreement with someone over how many bikes can fit on one of PBOT's standard staple racks. Daniel also wants to know if there are manners to keep in mind when sharing a staple with someone...
"Following an odd conversation/almost-altercation I had yesterday, I am led to wonder whether his claim that the bike staple can fit 4 bikes has more merit than I'm giving it credit for.

I mean, I see how it can work physically. It just seems like there's a lot of potential for screwing someone else's bike, and we've built and continue to build a lot more staples to avoid precisely this situation, no? Or should everyone just park their bikes in a way that promotes the 4-bikes-to-a-staple, in the interest of increasing capacity for all?

To your knowledge, what is the official design capacity of the staple? What is correct etiquette when wanting to park at the same staple where someone is currently parking? "
I like your open-mindedness and altruism on this issue Daniel, but the official design capacity of a staple rack is two bikes. There's really no debating it. But that being said, in a pinch I've doubled-up on one side of the staple and gotten three of them on one -- so I guess if you doubled up on both sides you'd get four. But, as you point out, four bikes on one staple is just asking for trouble.
The proper way to use a staple is to lay your bike parallel to the top bar, length-wise. I will, on occasion, see people who place their bike perpendicular to the staple, but that's a bike parking faux-pas. However, sometimes the staples are installed so poorly that you are left with few options. For instance, in front of my building, someone installed them in a straight line with just a few feet between each one. This makes it impossible to use all of them without overlapping. Another common installation error is putting the staple too close to a wall, which leaves only one side available for a bike.
As for etiquette when using a staple rack that already has one bike locked to it, I'd just say to be considerate and careful. Try to put your handlebars on the opposite side of theirs to have a lower chance of tangling.
Does anyone have more to add about staple rack capacity, usage, and etiquette?
-- Got a burning bike question? Drop me a line and I might answer it next week. Browse past Ask BikePortland columns here.
Email This Post
Possibly related posts