Posted by Jonathan Maus (Publisher/Editor) on June 8th, 2007 at 2:01 pm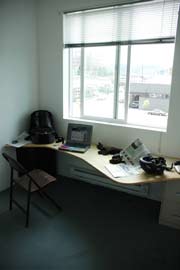 Our new digs.
I'm writing this from my new office! This morning, Elly Blue and I moved into an office in inner southeast Portland. We're in the ActivSpace building on SE 8th and Main (map here).
Our downstairs neighbor is none other than Black Sheep Bakery, home of the famous bike-thru window.
My office-mate, Elly Blue, is the wonder-woman behind the upcoming International Towards Carfree Cities Conference. You might also remember her as the author of some tremendous editorials on BikePortland (she'll be writing more soon).

Leaving the home office is a bit sad. I'll miss my two girls being so close. But there's huge upside to working from the heart of the city. I'm much closer to all the bike action and it will be easier for me to get to stories and newsmakers.
And now I finally have my own mailbox! Go ahead, feel free to send me a note:
Jonathan Maus
PedalTown Media, Inc. (that's my official business name)
833 SE Main St., Box #402
Portland, OR 97215
It's the first real office for both Elly and I. Yes, it's very small (less than 10x10 ft) but it's cheap, and we have big ideas.
Wish us luck on our adventure...
Email This Post
Possibly related posts