Indoor bike parking rooms are becoming standard in Portland's offices and apartment buildings. But when square footage is scarce, sometimes plastic-coated hooks just won't do.
That's where hanging horizontal racks come in. These two-level metal models cost hundreds of dollars per bike space — but they also make a bike parking area 50 to 100 percent more efficient per square foot.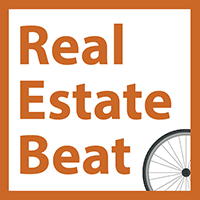 Their systems of shocks and hinges also make it easy for someone with a smaller frame or less muscular arms to hoist a bike into place. To get a better look at the state of the industry in bike parking, I visited local expert Scott Mizée of Alta Planning and Design. Alta's employee bike parking room — a.k.a. "Bike SPA" — on Portland's inner eastside doubles as Mizée's test lab for the industry's best bike parking products.
I asked Mizée to give a brief introduction to each of the main horizontal rack products he's testing.