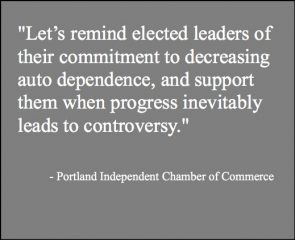 The Portland Independent Chamber of Commerce (PICOC) has turned their influential attention to an issue near and dear to our hearts: the struggle for safer streets.
Launched early this year by a relatively young cadre of tech industry leaders as an antidote to the Portland Business Alliance, PICOC wants more Portland businesses to step up and support "the Vision Zero movement."
Their latest campaign hit inboxes and social media feeds today. It's timed to influence City Council's upcoming vote on the Vision Zero Action Plan released by the Portland Bureau of Transportation earlier this month. Council is slated to formally adopt the plan on October 12th.