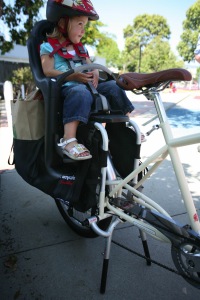 Easily carry kids, cargo with the PeaPod LT
(Photo by Xtracycle)
If you want to carry your groceries on your bike, or pick up a load of lumber from the hardware store, there are a lot of bikes out there for you on the U.S. market, particularly longtail bikes — particularly the Xtracycle, the Yuba Mundo, and the Kona Ute.
But wait, you also want to carry a child or two along with all that orange juice and cat litter? That's a little more tricky.
But times are changing, with Xtracycle's release this week of the PeaPod LT, the first child seat that is fully compatible with its longtail bikes.