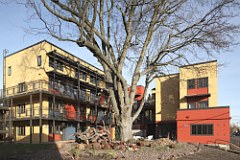 Daybreak Cohousing makes biking easy.
(Photo: Sally Painter)
A new housing development opening this weekend in North Portland will combine two Danish influences on our city: cohousing and biking.
On Saturday (4/17), the Daybreak Cohousing development at 2525 North Killingsworth Street will host its grand opening celebration. Daybreak is a planned community where residents own their own units and where everyone takes part in community management and share resources and spaces with one another. In 2009, Natural Home magazine named Daybreak one of the top 10 green cohousing developments in America.