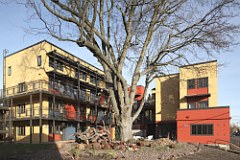 Daybreak Cohousing makes biking easy.
(Photo: Sally Painter)
A new housing development opening this weekend in North Portland will combine two Danish influences on our city: cohousing and biking.
On Saturday (4/17), the Daybreak Cohousing development at 2525 North Killingsworth Street will host its grand opening celebration. Daybreak is a planned community where residents own their own units and where everyone takes part in community management and share resources and spaces with one another. In 2009, Natural Home magazine named Daybreak one of the top 10 green cohousing developments in America.

One of those green features is an on-site bike shop and bike parking area in the basement of one of the buildings. Accessible by a ramp from the sidewalk, the bike work space is adjacent to a large bike parking area that can fit about 60 bicycles. See the ramp, the shop and the bike parking in photos below (all taken by Daybreak resident John Bloss):
| | |
| --- | --- |
| Plenty of bike parking. | A ramp down to bike area. |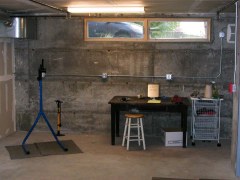 Free use with home purchase!
Former BTA board member John Bloss moved into Daybreak in January. He says their consideration for bicycles was key to his decision to buy one of the 30 units:
"Since I do not own a car of my own, and rely primarily on transit, or bike for the vast majority of my personal travel, the bike amenities at Daybreak were perfect for me… it was not the deciding factor, but definitely a major factor in my decision to move in and purchase a unit."
Bloss points out an addition bonus for carfree or low-car residents — there are two bus lines (#72 and #35) right outside his door, and the MAX yellow line and two car-sharing spaces from Zipcar are nearby (not to mention lots of stores, eateries and other stuff within a short walk).
According to Daybreak, there are still units available in the $287,000 to $425,000 price range and they're still looking for new members.
City Commissioner Amanda Fritz will be on-hand for the grand opening event on Saturday. There will also be music, food (potluck-style), activities, and more.
Learn more at DaybreakCohousing.org.