by Jonathan Maus (Publisher/Editor) on February 28th, 2014 at 10:40 am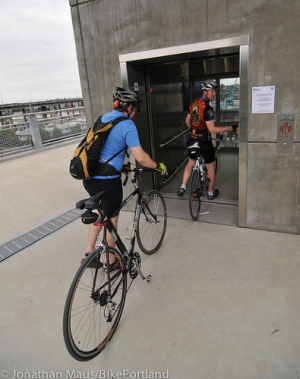 Nice elevator when it's working.
(Photos by J. Maus/BikePortland)
The opening of the Gibbs Street Pedestrian Bridge in July 2012 came amid much fanfare. The $13.6 million span over Interstate 5 provided a much-needed connection between the Lair Hill neighborhood and the burgeoning South Waterfront.
While it's a beautiful bridge to walk and bike on, it has one major flaw. There's no ramp to make bicycling easy and smooth at the transition to the South Waterfront side.
Once you get to the east side of the bridge, the design requires people to: carry and/or push their bikes on six flights of stairs with only a narrow and hard-to-reach wheel gutter to ease the task; or use an elevator.
And unfortunately, the elevator — which is by far the preferred option if you are biking, especially with kids and/or with a large bike — has proven to be unreliable.[Read more…]