by Michael Andersen (Contributor) on April 15th, 2014 at 3:04 pm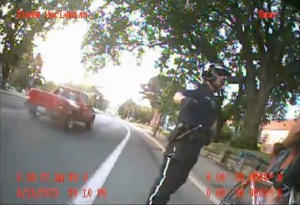 Still from police video of traffic stop.
A Medford man issued a citation last year for pedaling outside of a bike lane to avoid debris says a judge has sided with the officer who pulled him over, saying he should have steered his bike around the rocks and sticks without leaving the bike lane.
We reported on this incident in October, including a video of Dallas Smith's encounter with Ashland police officer Steve MacLennan.
"I get flats when I ride over there," Smith tells Ofc. MacLennan in the video, which was captured by the officer's dashboard camera. "I got two flats riding (unclear) last week."