The elevators that take bicycle riders up and down the Bob Stacey Overcrossing (originally called the Gideon Street Overcrossing) in southeast Portland are proving to be quite a problem for the Portland Bureau of Transportation.
As we reported in February 2022, during the bridge's first 15 months of operation, the elevators were closed and out-of-order at least one-third of the time. It's a big deal because this is an important connection across several rail tracks. And without the elevators, the only other viable option is several steep flights of stairs that are extremely challenging and often impossible for most people to navigate with a bike (or a stroller, a wheelchair, and so on…).
In May 2022, the City finally got the elevators working again and promised they'd be more reliable in the future. Unfortunately that has not been the case. They were first reported down on May 11th of this year. More than a month later, the elevators are still closed and PBOT doesn't have a timeframe for when they'll work again.
The City first blamed the problem on "unexpected motor failures" and parts that didn't arrive fast enough due to "pandemic related delays" in the supply chain. When we last reported on this issue, PBOT seemed confident that the problem was fixed and they even installed a monitoring system (in partnership with Portland General Electric) that was supposed to sense motor issues and trigger a warning before they failed.
Whatever is going on, we've heard from a source, that it could take a long time to fix.
On June 5th, an unnamed source who has knowledge of the issue shared this:
"Those elevators have blown multiple lift motors since its opening, and they haven't been able to figure out why yet. It seems to be an engineering design flaw. At first they thought it was power surges causing the issue, but PGE put up monitors in the area. Plus they installed a motor from a different manufacturer. But the motors still broke.

So now they are going to do an engineering forensics investigation. They have to contract it out and don't have a timeline yet. They can't replace the motors until they know what broke them in the first place. As you can imagine, these motors are very expensive.

There is no evidence human activity caused the motors to break."
Adding to the problem is a jurisdictional issue: TriMet paid for the bridge and the installation of the elevators (it goes over a light rail line), but PBOT manages the facility and is responsible for ongoing maintenance. Given their budget situation these days, PBOT probably isn't very excited about this unexpected bill and there might be some wrangling over who picks up the tab.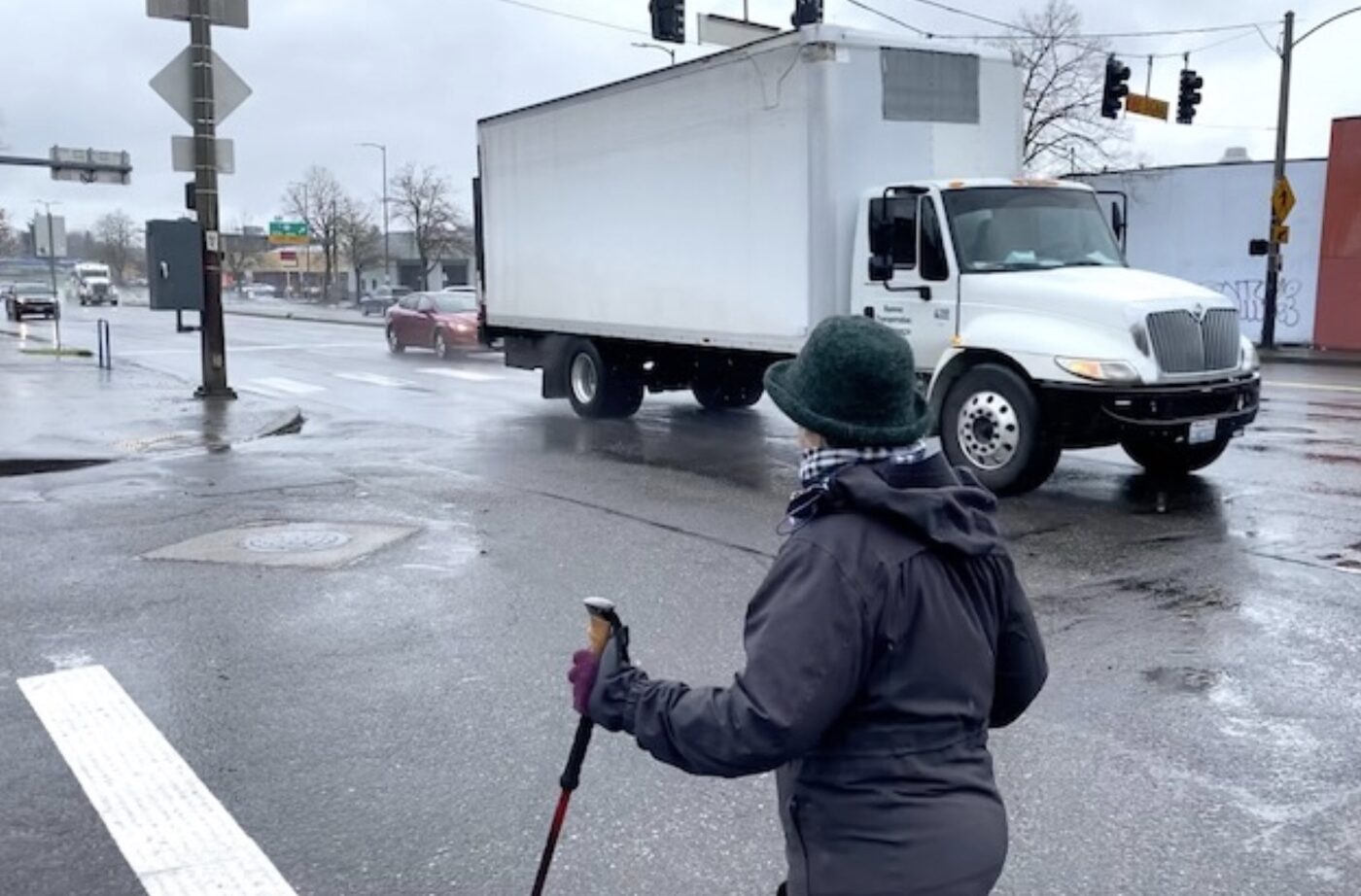 Adding even more grey hairs for PBOT is a push from a local activist who is not only concerned about the elevator, but who thinks the detour instructions and mitigation plan for the closure aren't good enough. Betsy Reese is a veteran local transportation advocate who has worked with PBOT and other agencies for years on a variety of issues. She started an email chain this week that includes many top PBOT officials, other advocates, and members of the media.
Reese thinks the detour route recommended by PBOT is "dangerously impossible" because it has people crossing over SE Powell Blvd several times. A better detour, Reese says, is to stay on the north side of Powell and use the path underpass — a route that is easier and shorter; but is also prone to overgrown vegetation, lighting outages, and has often been the home of street campers. Reese adds that the situation will likely get worse as more people try to access the elevator when the forthcoming Gideon Street Temporary Alternative Shelter opens nearby later this summer. That site will be Portland's largest homeless shelter with 140 living pods.
A resident of the nearby Brooklyn neighborhood on Reese's email chain said he expects these issues to be addressed by the City as part of a good neighbor agreement related to the new shelter that is currently in the works .
Yesterday, PBOT Communications Director Hannah Schafer responded to Reese. "It is important for us to emphasize that these elevators are very complicated machines and are not breaking down due to neglect," Schafer explained in an email. "We're doing some additional investigations around the continued motor failure issues and recognize this is a frustrating situation for all!" Schafer said PBOT offers free rides, 24/7, for anyone who needs ADA accommodation when the elevators are out of service.
So far, Reese isn't satisfied with that response.
"Either figure out how to keep elevators operational or figure out an alternative to them and stop installing them," she wrote back to Schafer. "Clean up and maintain the vegetation on the underpass, and give correct detour instructions to use it."
Stay tuned. We hope to share a remedy to the elevators and associated problems soon.