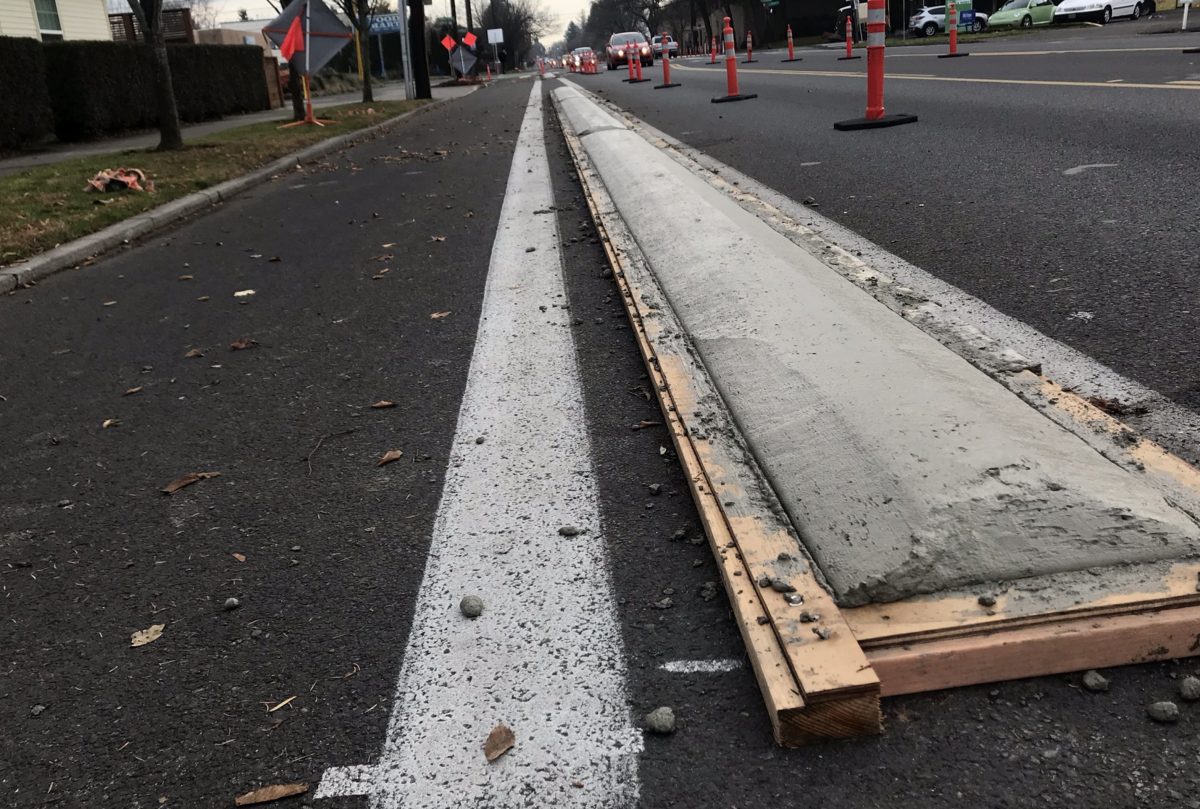 The day has finally come!
Nearly two years after the Portland Bureau of Transportation announced plans for protected bike lanes on North Rosa Parks Way, crews are installing concrete curbs to separate bicycle and car users.
(Note how many jobs this relatively small project has created.)
Initially planned with delineator wands, PBOT heard from local residents that the skinny, plastic bollards weren't aesthetically pleasing enough to grace the neighborhood's most important street. Plastic wands were installed (and will remain) at several key conflict points, but the main mode of protection moving forward will be a shaped concrete curb that stands about five inches tall.
The new curbs are being installed intermittently between NE Martin Luther King Jr. Blvd and N Willamette Blvd.
PBOT Project Manager Scott Cohen told us in August 2018 that, "I think it's going to look great. These [curbs] will look better and will protect the bike lane more than plastic wands."
This is the first time PBOT has installed concrete curb protection for a bike lane in a Portland neighborhood. The only other place this design is currently used is in an industrial section of Lombard north of downtown St. Johns.
To get an idea of what the finished product on Rosa Parks Way will look like, below is what Lombard looks like:

According to PBOT, the curbs will be installed in sections with gaps to allow access for turning lanes, driveways, and the few parking spots outside a coffee shop near North Interstate Ave. Also don't expect to see this protective measure in use over I-5 because the Oregon Department of Transportation controls that section of Rosa Parks and they don't approve of them.
I'm eager to see how these curbs impact the use of the street. If they work here, I'm sure PBOT will be more likely to use them in other projects (especially if you advocate for them!). In addition to creating a safer, more respectable cycling space, I suspect they'll act as medians that calm traffic on the street even further than the recent restriping and other updates PBOT has made.
If you ride on Rosa Parks, please let us know what you think. Better yet, drop PBOT's Scott Cohen a line and tell him – Scott.Cohen@portlandoregon.gov.
— Jonathan Maus: (503) 706-8804, @jonathan_maus on Twitter and jonathan@bikeportland.org
— Get our headlines delivered to your inbox.
— Support this independent community media outlet with a one-time contribution or monthly subscription.