The City of Portland has just released its vision for a new system of faster, more frequent bus service. The Rose Lane Vision debuted tonight to coincide with the first of three public open houses.
City Commissioner Chloe Eudaly first announced the initiative at a Portland City Council meeting last month and said it would focus on eradicating racial disparities in commute times and reducing greenhouse gas emissions. We hoped to see the routes under consideration at that meeting, but Eudaly's staff said they weren't ready for prime-time.
Now they are.
As you can see in the lead graphic, PBOT and Eudaly's office have identified 20 corridors where they'd like to start building transit-priority lanes before the end of next year. The lanes will include a range of improvements including: red "bus only" paint, priority signals, queue jumps, and other elements taken from PBOT's Enhanced Transit Corridors plan which was adopted in June 2018. The routes were chosen with feedback from an advisory panel and from data supplied by TriMet. PBOT looked specifically at corridors with the worst delay, highest ridership, and most frequency.
Here's the list under consideration (in the order they're numbered on the map above):
1 – Williams/Vancouver
2 – NE MLK Blvd
3 – NE Broadway
4 – NE Sandy
5 – East/West Burnside
6 – Belmont
7 – SE Hawthorne
8 – Cesar Chavez & Hollywood TC
9 – Gateway
10 – NE 102nd Ave
11 – NE 122nd Ave
12 – SE Holgate
13 – SE Tacoma
14 – SW Capitol Hwy (East/Central)
15 – Milwaukie, 9th/Tilikum
16 – Division & 7th
17 – SW 4th, 5th/6th, Terwilliger, SW Hall, SW Mill
18 – SW Columbia/Jefferson
19 – SW Washington
20 – Steel Bridge/Rose Quarter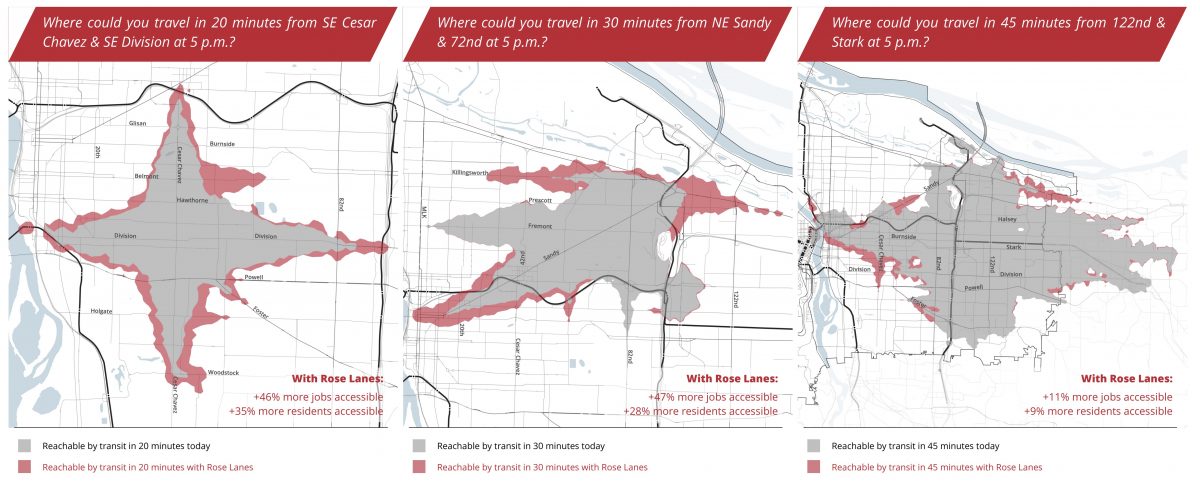 One one of the posters being unveiled at the open house tonight, PBOT has calculated time savings based on several different trips. Today, people using Line 6 to get from Dishman Community Center in north Portland to SE Belmont and 46th would save nine minutes in travel time. A trip on Line 75/Line 12 from SE Cesar Chavez and Division to NE Sandy and 82nd would take 49 minutes today and just 35 minutes once the Rose Lane is up-and-running — that's 29% faster.
Learn more at the open house tonight from 5:30 to 7:30 at Rosewood Initiative (16126 SE Stark St.). The next two open houses are: Saturday, Dec. 7, 2:00 – 4:00 PM at North Portland Library Community Room (512 N Killingsworth St) and Monday, Dec. 9, 5:30 – 7:30 PM at White Stag Building (70 NW Couch St).
PBOT has also launched an online survey to garner more feedback for those who can't make it to one of the open houses.
(Below is an embedded PDF of the Rose Lane Vision poster board)
[pdf-embedder url="https://bikeportland.org/wp-content/uploads/2019/12/Dec-2019-Open-House-Boards_station5.pdf" title="Rose Lane Project Open House Boards Station 5″]
— Jonathan Maus: (503) 706-8804, @jonathan_maus on Twitter and jonathan@bikeportland.org
— Get our headlines delivered to your inbox.
— Support this independent community media outlet with a one-time contribution or monthly subscription.