Many Portlanders are feeling angry, frustrated and afraid this morning after another night of traffic violence.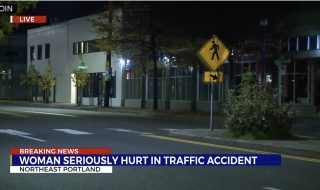 Last night there were (at least) two collisions that resulted in serious injuries. They both happened at around 6:00 pm Thursday night, just 1.7 miles away from each other, and on nearly the exact same street.
The Portland Police responded to Sandy Boulevard at NE Lawrence/26th after a collision that led to life-threatening injuries to a woman who was crossing the street on foot. According to a witness that spoke to a KOIN-TV reporter, a woman was walking in a marked crosswalk across Sandy when she was hit. "A driver going north [east] stopped for her. As she continued to make her way across the street, that's when the driver hit the woman," KOIN reported.
This location on Sandy has a 30 mph speed limit and two lanes in direction. There's also a wide-open space where NE Oregon and Lawrence come together that adds complexity and danger. There's a striped crossing and a median island in the middle. Because Sandy is so heavily used by drivers and has very little to no traffic calming, it's a very well-known danger zone.
According to the Portland Bureau of Transportation, from 2013 to 2017 there have been a total of 759 injury crashes including two fatalities, 27 serious injuries, and 204 moderate injuries. PBOT has tried to make it safer in recent years as part of their Vision Zero and High Crash Network initiatives. Just last month they touted the installation of "safer crossings" with a flashing beacon a few blocks away at 31st.
In PBOT's recently adopted PedPDX Plan, Sandy Blvd is classified as a "Major City Walkway" and the location where this woman was hit last night is in a "Pedestrian District". The plan says Major City Walkways are, "intended to provide safe, convenient, and attractive pedestrian access along major streets." Pedestrian Districts are, "intended to give priority to pedestrian access," and, "should be designed to provide a safe and comfortable walking." The intersection with NE Lawrence/26th is also just one block away from a segment of Sandy with a "Tier 1" label for "Pedestrian Network Priorization" which means it has the highest aggregated equity, safety, and demand scores.
Also of note is that last night's collision happened adjacent to the Pepsi Blocks, an industrial area that's about to undergo a major redevelopment project. As detailed on Next Portland last week, the project is likely to improve safety at this intersection by creating the "Sandy Point" plaza at the intersection of NE Oregon/Lawrence and Sandy. That project will further increase the amount of people walking on and around Sandy Boulevard.
As we were sadly reminded last night, this welcome increase in foot traffic must be accompanied by stronger measures to discourage and control automobile use.
On a similar note, just 1.7 miles directly south of this collision a woman who was riding her bike on SE Clinton at 26th was hit by a car driver. According to a woman who came upon the victim shortly after the collision, then posted about it on Twitter, "it did not look good." "What a preventable disgrace," she shared, "Get cars off greenways."
This section of Clinton is very busy with bicycle riders and is more stressful than a typical intersection because of it's off-set design. A a slip-lane for eastbound traffic that wants to head south on 26th increases danger. In 2014, Better Block PDX chose to erect a pop-up plaza at this intersection. Their proposal narrowed the intersection by eliminating that slip lane and extending existing sidewalks into the roadway to create plaza space and safer streets.
---
In My Opinion:
As we see too often, PBOT knows where the problems are and they have the plans and tools to fix them. The problem is, we don't do enough of that fixing fast enough and the people die and get hurt as a result. It's very clear: All the plans and promises in the world don't mean anything until we get much more aggressive with countermeasures to auto use. And please don't talk to me about a "pedestrian safety crisis." The focus here should be on the abuse of vehicles that are wholly incompatible with vibrant urban life. This is not about "bike and ped safety" this is about dangerous road design, careless and reckless driving, and a dysfunctional transportation culture that allows it to keep happening.
— Jonathan Maus: (503) 706-8804, @jonathan_maus on Twitter and jonathan@bikeportland.org
— Get our headlines delivered to your inbox.
— Support this independent community media outlet with a one-time contribution or monthly subscription.