It's definitely October. There's a chill in the air, leaves are turning, there's extra candy in grocery stores, and Halloween decorations are going up in our neighbors' yards. So it seems like a good time to talk about a scary topic: intersections. Granted not all intersections are scary — I biked through Vancouver BC's protected intersection earlier this year and I can't wait to see more of them in Portland soon.
But until they're protected, or we get more leading bicycle intervals, intersections will remain the spookiest part of most bike rides. So I've started to find routes around the worst ones.

Our Family Biking column is sponsored by Clever Cycles.
➤ Read past entries here.
Much like horror movie characters who feel their only option is to run upstairs when being chased by monsters, it can be hard to leave the marked bike route, especially when dozens of other bike riders are fine with it. Even so, I've found two spots on my commute (see map below) where I stray from the pack and it makes me want to work in more little route wiggles to avoid some of the spookier intersections. I hope my two examples might yield some ideas for you.
➤ SE Clinton St & SE 21st Ave when heading northwest
This isn't a horrible intersection — it's on super-bike-friendly Clinton Street after all! But it's a four-way stop that's usually full on all sides and it's pretty easy to avoid. I found this wiggle by observing a commuter who turned off Clinton early to avoid getting stuck behind a stopped bus. He didn't end up getting to 21st quick enough to turn in front of the bus or me, but I realized that, because I value simplicity over speed, it would work great for me. This works very well in the northwest-bound direction (with a right-left-right turn sequence), but isn't quite as simple heading the other way due to two left turns. And that's a thing: the main bike routes are usually identical in both directions, but wiggles often only work well one way. I'm happy to wait at a stop sign for cross traffic to clear if it's a relatively quiet street and I know the wait won't be long, but it's not often I want to make extra left turns.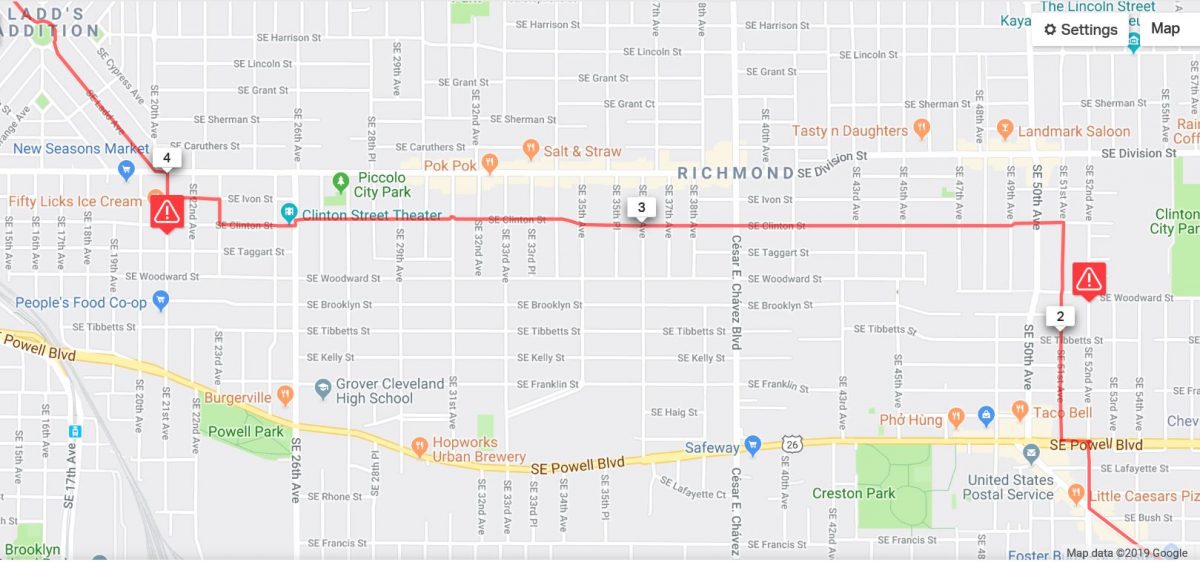 ➤ SE Woodward St & 52nd Ave when heading northwest
This one might not look appealing on the surface, but it works very well for me, even during rush hour. I'm not fond of making left turns from bike lanes — I bike slowly and I often don't think to get out of the bike lane and over to the left well in advance. This intersection is additionally scary because Woodward doesn't line up straight at is crosses 52nd and there is a lot of crosswalk traffic from Franklin High students.
My kids and I used to approach this intersection from the east along Woodward so there was no avoiding it, but since the bike lanes went onto Foster (which I wouldn't call family-friendly, but I still like them enough to use them) we suffer through a few blocks of 52nd, approaching from the south. The first time I tried this wiggle (which uses half a block of SE Powell Blvd, a state highway) I arrived to the intersection as everything aligned in my favor: there were no cars in the lanes next to me, the left-turn arrow had just come on, and there were no people biking behind me (who might pull to my left to pass as I was moving left to turn).
It's been months since that first wiggle and each time I've encountered the same or almost-as-good conditions. I think the lack of heavy car traffic must be because northbound people also want to avoid the busy high school crosswalk and choose 50th, and westbound people are turning left a few blocks earlier at Foster. Whatever it is, I usually have the left turn lane to myself and can trigger the light even without a painted bike detector and have made it the 275 feet along Powell (and most of it in a long bus stop if I don't want to use the right lane) and turned off before the light has changed bringing traffic behind me.
The seven blocks of 51st aren't without problems: there's a very bad hidden bump just past Kelly St (if there's no oncoming traffic I avoid the worst of it on the left side of the street, otherwise I use a wiggle my kid discovered and skirt around it to the right in a driveway), there's a stop sign at the bottom of the hill at Tibbetts that's tempting to blow through, and there's always a wait at Woodward for the bike commuters who haven't left the bike route. But I find these little things worth navigating rather than making that pesky left turn. Plus there's currently (and often) a closure of the bike lane that I avoid.
I've done this wiggle with my kids when the lights have cooperated, but I'd rather use sidewalks for the half-block through the intersection and Powell. I don't like resorting to sidewalks, but as I've written before, sidewalk cycling can be a savior.
Do you have any similar wiggles or are you interesting in trying some? My neighborhood is devoid of greenways, but it's full of quiet streets with alternating stop signs and I'd like to find some routes that zig-zag more to take us places with minimal stops. Thanks for reading!
Note: This story has been edited after a reader pointed out that a word we used in the headline and several times in the text has historically been used as a racial slur. We've edited the story and replaced the word with "scary". We apologize for any harm we caused. – Jonathan.
Remember, we're always looking for people to profile. Get in touch at madidotcom [at] gmail [dot] com if it sounds like fun to you.
— Madi Carlson, @familyride on Instagram and Twitter
Browse past Family Biking posts here.
Never miss a story. Sign-up for the daily BP Headlines email.
BikePortland needs your support.