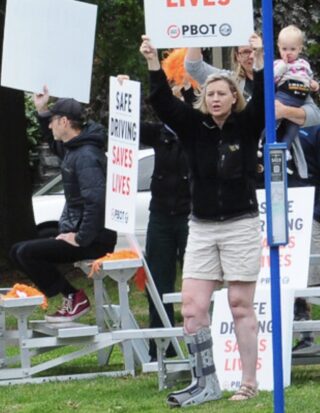 A series of tweets last week by a State of Oregon employee has led to her removal from a City of Portland task force.
Following her participation in a Portland Bureau of Transportation Vision Zero event on September 26th, ODOT Region 1 Transportation Safety Coordinator Tiana Tozer turned to Twitter to respond to critics. Many people felt her responses — which included statements like, "Well listen up Stoopid… No matter how much we engineer our streets, some idiot, like you, will still find a way die on them" — were inappropriate, especially for a State of Oregon employee.
"Her replies are exceedingly unprofessional and bordering on offensive and harassing," one person wrote in an email to ODOT that called for her to be fired. Another person wrote to PBOT Commissioner Eudaly that, "Tozer's opinions about safety (or the lack thereof) and her vicious attacks on anyone who dares disagree with her are the opposite of what we expect from someone involved with Vision Zero."
Commissioner Eudaly agreed. Yesterday her office announced that Tozer would be removed from the Vision Zero Task Force effective immediately (Tozer served on the task force as a representative of ODOT). Emails sent yesterday by Eudaly's staff in response to complaints stated: "PBOT has been in conversations with ODOT about this issue, and we understand that there will be a new person representing the agency on the Vision Zero Task Force starting in October."
A current member of the task force who asked to remain anonymous, told us this morning that, "I think Tiana's posts were concerning and damaging, and I think it was right for the City to review her participation on the VZ task force."
Jillian Detweiler, executive director of The Street Trust and task force member said she thinks hearing different perspectives about traffic safety issues is important. "However," she added in a phone call this morning, "I will say those tweets were reprehensible and I think that's probably the right call for ODOT to remove her."
ODOT Assistant Communications Manager Katherine Benenati responded to our request for comment this morning by saying, "While we are aware of the concerns raised by members of the public, we cannot comment on personnel matters other than to say the employee remains on active duty status." A different ODOT employee responded to a reader's concern via the ASK ODOT hotline by saying, "Please be assured that ODOT is aware of and is investigating the complaint."
Tozer was hired by ODOT in October 2018 and joined the Vision Zero Task Force in February of this year. In addition to her job at ODOT, Tozer is a speaker and consultant who advocates for people with disabilities. According to her website, she became a traffic safety advocate after suffering serious leg injuries when she was hit by a drunk driver at the age of 20.
CORRECTION: This story originally stated that Tozer had been on the VZ Task Force since February 2017 and that she'd only attended one meeting since then. That was wrong. Tozer was hired by ODOT in October 2018 and was put on the task force in February of this year. She's attended every meeting since then. I regret the error and any confusion it caused. – Jonathan
— Jonathan Maus: (503) 706-8804, @jonathan_maus on Twitter and jonathan@bikeportland.org
Never miss a story. Sign-up for the daily BP Headlines email.
BikePortland needs your support.