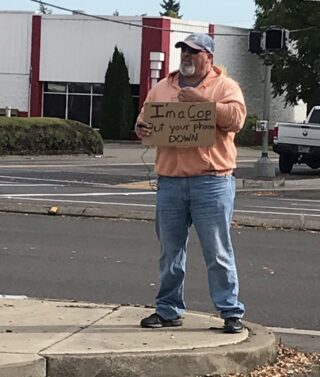 Every city in America has a big problem when it comes to distracted driving. Most states have laws that outlaw it, but the challenge is enforcement.

In order for officers to cite someone, they must first see the behavior. That can be tough from inside a patrol car. So they've had to get creative. Oregon State Police unveiled an unmarked car as part of their enforcement strategy and we've reported on an undercover sting in Aloha (unincorporated Washington County) where an officer in plainclothes stood on a corner and radioed fellow officers when they saw an infraction.
But what the Hillsboro Police Department is unprecedented (as far as we know) in our region. They put an officer in civilian attire on the corner of SE 10th and Oak Street holding a hand-written cardboard sign that read, "I'm a cop put down your phone." The method resulted in 60 stops in three hours that included 28 distracted driving citations and 22 citations for other violations.
While some people worried the signs themselves were distracting, the majority of commenters on HPD's Facebook post about the enforcement action wholeheartedly supported the effort.
We still think the best way to enforce cell phone use would be an undercover officer riding a bicycle in the bike lane during rush-hour; but this is pretty cool too.
Nice work Hillsboro PD! Keep it up.
— Jonathan Maus: (503) 706-8804, @jonathan_maus on Twitter and jonathan@bikeportland.org
Never miss a story. Sign-up for the daily BP Headlines email.
BikePortland needs your support.