Around 5:30 am this morning Oregon City Police Department officers have caught and arrested a man for intentionally throwing roofing nails onto streets.
As many of you know, Portland has had its own mysterious nails-in-the-street problem for many years. We first reported on the issue of roofing nails on North Interstate Avenue in March 2017. The problem has been so acute Portland resident Jessica Hunter started a Twitter account to post all the nails she finds.
What caught my eye in the OCPD statement is that their suspect, 56-year-old Oregon City resident Bret Michael Wilson, admitted to throwing nails onto streets "throughout the metropolitan area" over 50 times for the "last couple years." It leads me to wonder whether or not Mr. Wilson is behind the scores of nails that have shown up on Interstate Avenue (mostly between the Moda Center and Alberta Street).
Here's more from the OCPD:
We have dubbed Mr. Wilson as the nighttime nailer because over the last two years, someone had been intentionally throwing roofing nails onto local streets, primarily in the early morning hours while it was still dark outside. Some of the thrown nails did cause damage to motorists' tires, luckily no one was injured…

This morning, Mr. Wilson was lodged at the Clackamas County Jail on four counts of Disorderly Conduct II. We are combining the previous cases together and will be submitting them to the Clackamas County District Attorney's Office.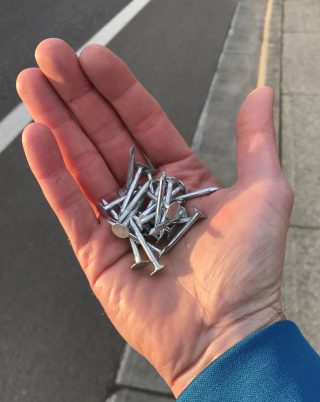 In January of this year, PBOT Commissioner Chloe Eudaly's office deemed the nails on Interstate Avenue an "intentional act" and teamed up with the Portland Police Bureau to find the culprit. Thanks to your support, BikePortland was able offer a $1,000 reward for tips leading to an arrest. Despite this attention on the problem, we've received no major tips or leads and we haven't heard much from the Commissioner or the PPB.
The OCPD was able to devote police resources to the problem. In fact, it was such a priority that Oregon City's Mayor Dan Holladay personally broke the news of the arrest via Facebook. He said officers conducted a stakeout that led to the arrest of the "nighttime nailer".
I've forwarded what we know to Commissioner Eudaly's office in hopes they'll forward the OCPD case to the PPB to see if there's any connection. I've also contacted the Clackamas County District Attorney's office to make them aware of the Portland incidents. Stay tuned for updates. If there's a connection, we have dozens of reports from readers that we can add to the District Attorney's case.
— Jonathan Maus: (503) 706-8804, @jonathan_maus on Twitter and jonathan@bikeportland.org
Never miss a story. Sign-up for the daily BP Headlines email.
BikePortland needs your support.