There's a lot to like about Portland. Our plentiful bike lanes (for an American city, that is) and our high percentage of bike commuters (again, by American standards), our temperate weather, and one of my favorite Portlandy things: our food cart pods!
While I love hanging out and eating at food cart pods, lately I've realized there are a lot of them that aren't exactly bike-friendly, which downgrades them to almost perfect spots.

Our Family Biking column is sponsored by Clever Cycles.
➤ Read past entries here.
Odds are you're reading this from one our 40 food cart pods, but in the off chance this is a new term for you, food trucks now come in a stationary variety called food carts. Many have wheels and look mobile, but they stay put. Much like whales, food carts are social creatures who hunt and migrate together so their groupings are called pods. A food cart pod can contain just a few different carts or dozens of them. Some have plentiful seating, sometimes including a canopy for shade and rain protection and heat lamps for the winter. Some have restrooms and fun little kid areas. Some have great parking, but a lot of them don't. And a lot of them are on busy streets (which is a good place for large parking lots, which they might otherwise be) making that last block of food cart pod travel a walk or ride on the sidewalk.
I love a lot of things about food cart pods:
➤ They're outside so I can bring our dog along.
➤ Lots of kids prefer dining outside.
➤ There's a wide variety of foods for eaters who want different things.
➤ Often they're spacious with room for bikes within sight so no need to lock.
➤ Not a customer thing per se, but I also love that food carts provide easy entry into the food biz, especially for immigrants.
I love the pods that have carved out room for lots of bike racks. Often the bike racks are within view of seating areas. If we're seated right next to our bikes I don't even bother locking up! Being able to keep an eye on the bikes while eating is awesome, and makes it possible for kids to walk back and forth to bikes to retrieve stuffed animals or tuck leftovers into cargo bags on their own.
Due to the transient nature of the lots that host the pods (Tidbit, I miss you!) it's not worth listing family biking pros and cons of each and every pod. Also, I'm a big believer in sticking close to home to keep our bicycling mileage reasonable, so we tend to mostly visit the pods in the southeast quadrant and I don't know all the things about the pods farther away.
I'll share my thoughts on a few pods so you have an idea of what one can expect and I'd love to hear in the comments about your nearby or favorite pods, specifically what the streets are like in the immediate area and if there are bike racks and potties.
➤ Cartlandia (8145 SE 82nd Ave) is easy to get to along the Springwater Corridor Trail and has bike racks…but they're hard to access if the adjacent car parking spots are full. There's lots of seating, including inside a hangar-type room (with a gender-neutral bathroom), under a canopy by the bike racks, and you can even bring your food and kids (but not drinks of any sort nor pets) into the bar sharing the parking lot (which has bathrooms of the gendered variety).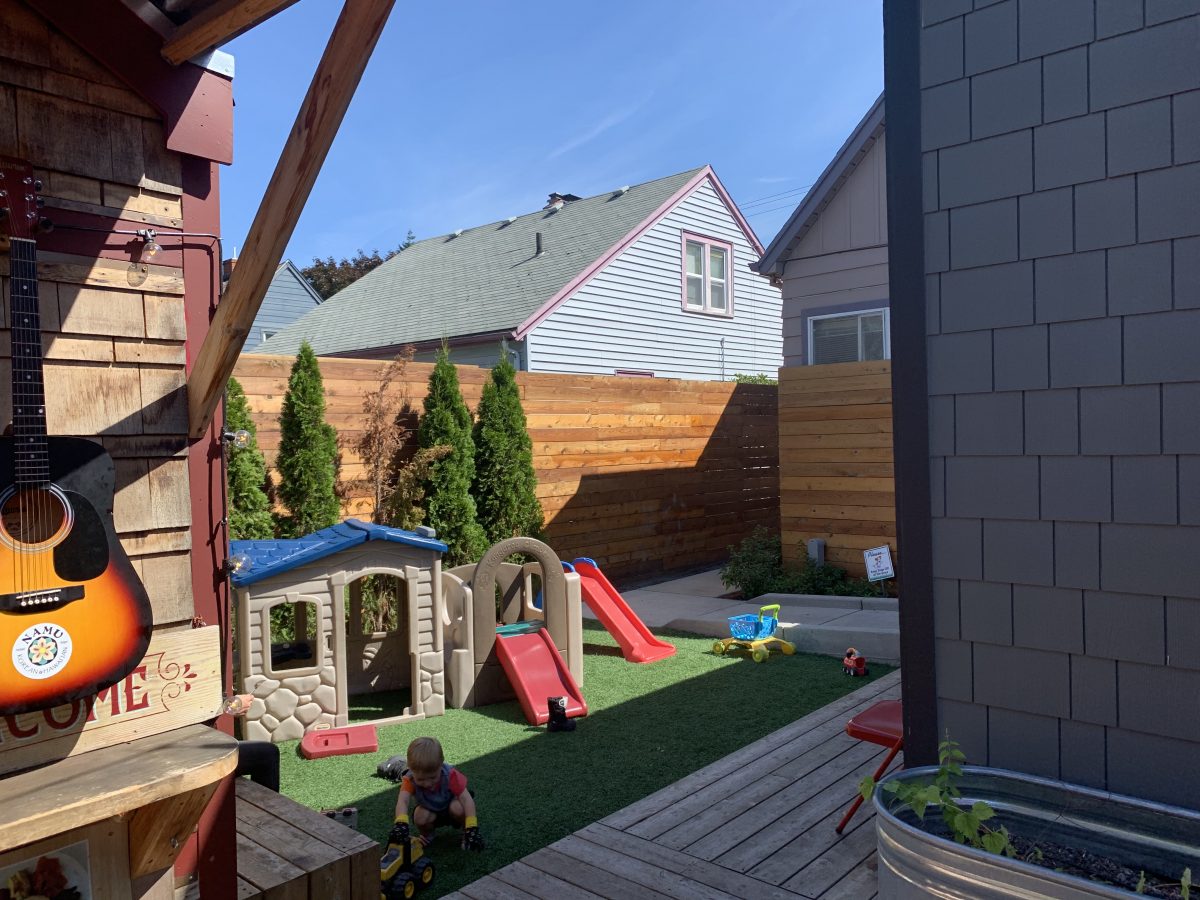 ➤ The Lot at Scout Beer (5029 SE Division St) is where many of the Tidbit carts moved, but there's no bike parking and it's on a busy street. But it has the best bathrooms (two gender-neutral ones) and a play area for toddlers!!!
➤ Portland Mercado (7238 SE Foster Rd) is on a busy road, but easily accessed from the non-busy side. It has great bike parking with a corral by the parking lot and lots of staples on the sidewalk. The indoor area has restrooms. I love every cart of this Latin American pod, but I haven't found one the kids are big fans of yet, though they've been willing to try new things here more than most places.
Tomorrow is the first day of school for those following the Portland Public Schools calendar so happy first day of school to those of you affected! Food cart pods make excellent après-first-day-of-school destinations, but we've got a less Portlandy tradition and will hit a conveyor belt sushi joint. One with good bike parking and a nice bikeable route, though!
Which is your favorite food cart, and which is your favorite food cart pod? I have grand plans of making my way through the entire Smaaken menu (three locations). Thanks for reading!
Remember, we're always looking for people to profile. Get in touch at madidotcom [at] gmail [dot] com if it sounds like fun to you.
— Madi Carlson, @familyride on Instagram and Twitter
Browse past Family Biking posts here.
Never miss a story. Sign-up for the daily BP Headlines email.
BikePortland needs your support.