"We're incredibly lucky," Lumberyard co-owner Will Heiberg said this morning from the roof of his building on Northeast 82nd just south of Siskiyou. "If you would have talked to me last night at about 6:30 I would have said it was all gone."
"If you would have talked to me last night at about 6:30 I would have said it was all gone."
— Will Heiberg, Lumberyard co-owner
Heiberg and his business partner Michael Whitesel opened the Lumberyard in 2012 and are just putting the wraps on their best summer season ever.
On Monday evening they were working the front counter when a man rushed in and said, "There's a fire on the hill!" The way Heiberg tells it, their manager went up on the roof to check it out. Heiberg told everyone inside to be prepared. "I said there's a fire out back but it probably won't be a big deal."
A few minutes later Heiberg grabbed a fire extinguisher and climbed up to the roof to see for himself. "Then Mike [the manager] came running toward me and was like, 'Get the f*** out now!'"
What seems to have started as a small fire in a vacant grassy field north of their building, quickly escalated into a major fire. Today I saw the remains of several destroyed homes and structures and dozens of cars in a lot adjacent to the Lumberyard. (Note: The source of the fire remains unknown. The cars in the parking lot are believed to be part of an auction and were not in active use.)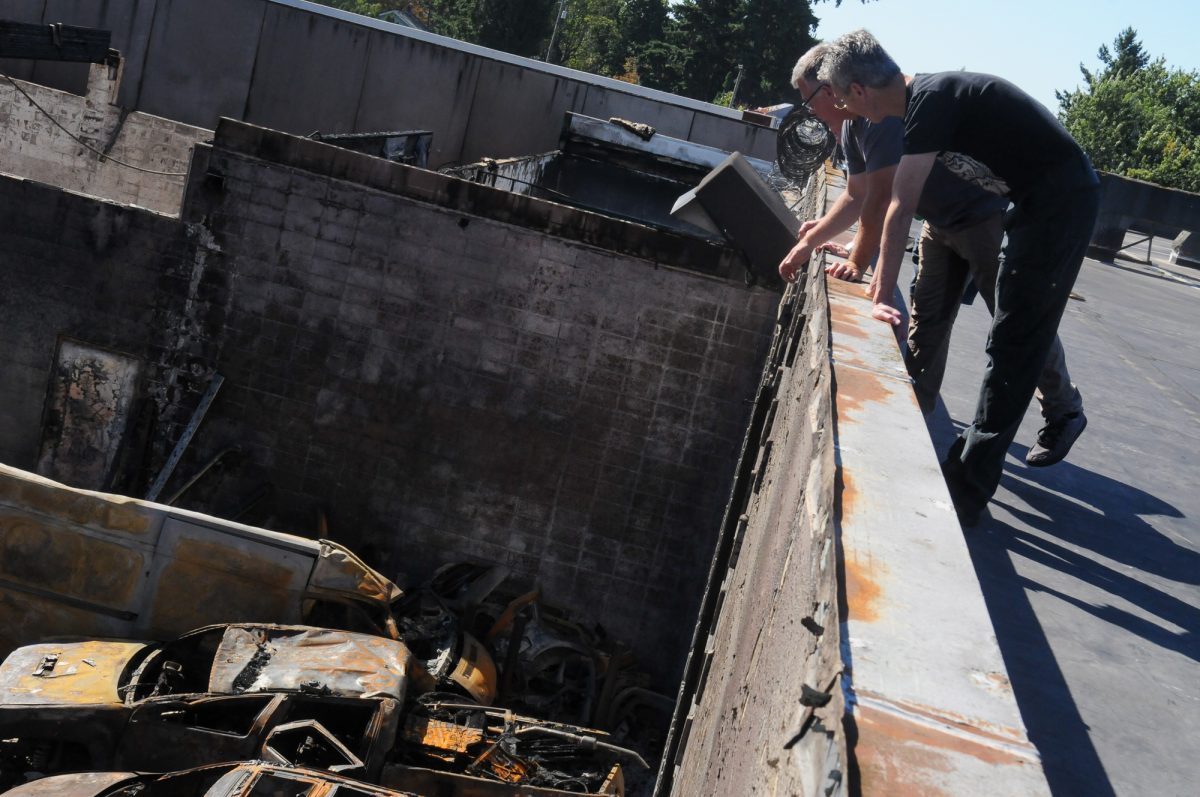 It's a miracle that the Lumberyard didn't sustain more damage. The back and side wall of his building are charred from flames and smoke. On the other side of a cinder block wall just inches from where I've biked with my eight-year-old there are cars flattened and melted from the fire.
Heiberg credits the quick and decisive actions of fire fighters for saving his business.
They didn't escape scot-free. There's water damage in their basement. A cargo trailer parked outside is heavily damaged. Their roof has minor exterior damage from a few flames that managed to jump across. Paint flecks that peeled off due to heat on the ceiling litter the floor in a few spots. They're still without power and a full building inspection hasn't been completed, so they can't make a final assessment of the damage.
That being said, all signs point to a relatively quick and full recovery for this bike community institution that we all know and love. They lost a week of summer camp revenue (this was supposed to be the final week); but Heiberg says he hopes to re-open by this weekend.
Since last night, an outpouring of support has come in. Heiberg and Whitesel say they appreciate that but they want to re-direct it toward their neighbors. "They lost their homes and they have nothing. It's only because 150 firefighters that I still have my business."
Stay tuned for details on a possible fundraiser and/or gathering in the coming days.
— Jonathan Maus: (503) 706-8804, @jonathan_maus on Twitter and jonathan@bikeportland.org
Never miss a story. Sign-up for the daily BP Headlines email.
BikePortland needs your support.
If you have questions or feedback about this site or my work, feel free to contact me at @jonathan_maus on Twitter, via email at maus.jonathan@gmail.com, or phone/text at 503-706-8804. Also, if you read and appreciate this site, please become a supporter.