The City of Portland has embarked on a project that will give bicycle riders more separation from auto and truck drivers on Northeast Marine Drive.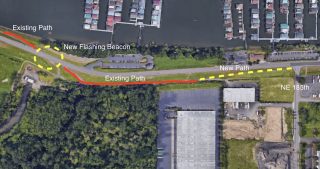 Marine Drive straddles the Columbia River, is part of the fabled 40-Mile Loop and is a crucial east-west cycling connection to east Multnomah County and the Gorge. Unfortunately it's also one of the city's most dangerous roads. A designated "High Crash Corridor," the Portland Bureau of Transportation has struggled for many years to reduce crashes, fatalities, and injuries to people who use it. Through Vision Zero and other programs, PBOT has reduced speed limits and installed automated speed cameras in an effort to slow drivers down and help them make better decisions.
The walking and rolling path on Marine Drive has nerve-wracking gaps east of I-205 that force bicycle riders to share this notorious roadway with other road users.
As we reported last year, PBOT has cobbled together about $1.8 million dollars to add better bike lanes (they'll be buffered from 112nd to 185th), a traffic signal (at 122nd), flashing beacons (where the path crosses the road near 138th and 185th), and a new section of path. Earlier this week I checked out the progress on the new path.
The new path starts west of 185th. As you can see in our expertly prepared graphic (LOL), PBOT will add one of the new flashing beacons to better connect two existing segments of the path. The new segment will connect back to the main road at 185th. Unfortunately this project won't close the remaining 0.6 mile gap east of 185th that remains before you get to the path at Interlachen Lane/Blue Lake Park. (Note that 185th is the Portland city limit.)
I look forward to seeing other parts of this project completed soon.
You can learn more about the gaps that remain on Marine Drive (and progress that has been made to close them) between Kelley Point Park and the Sandy River in this excellent presentation (PDF) by 40-Mile Loop advocate Jim Sjulin.
— Jonathan Maus: (503) 706-8804, @jonathan_maus on Twitter and jonathan@bikeportland.org
Never miss a story. Sign-up for the daily BP Headlines email.
BikePortland needs your support.