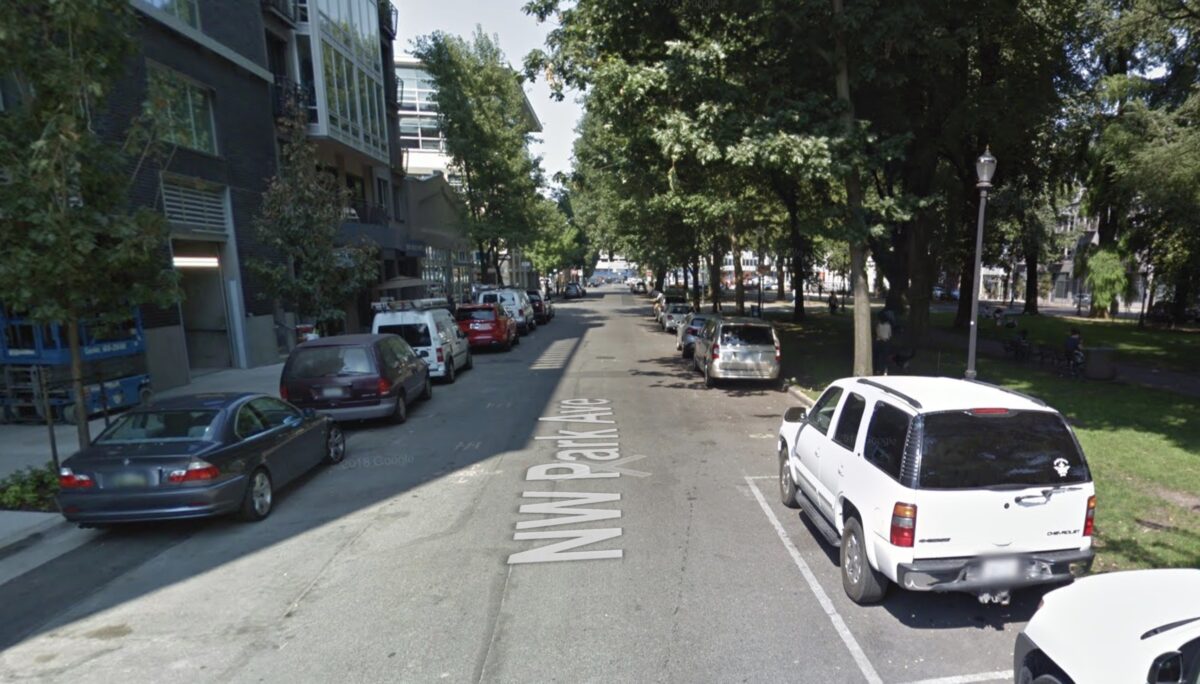 In case you hadn't heard, Portland's most famous food cart pod was recently evicted from its space on Southwest Alder Street to make way for a new hotel.
The Oregonian reported this morning that Commissioner Chloe Eudaly's office wants to move the carts to the North Park Blocks:
Eudaly's chief of staff, Marshall Runkel, said moving the carts to the blocks between West Burnside and Northwest Davis streets and Northwest Park and 8th avenues could bring new life to the under-used park space.

The move would "be a net positive" for the blocks said Runkel, who provided The Oregonian/OregonLive with mock-ups showing 37 carts may be relocated to streets around the park area.
The North Park Blocks would be the perfect spot for food carts*. The location is also along the future Green Loop route and The Oregonian reports that backers of that project are fully behind the cart pod idea. What makes Eudaly's plan even more interesting is that it would utilize existing public right-of-way for the carts. Space currently used to park cars would be turned into seating areas where you could meet friends and eat great food from small, local businesses.
You might recall that when news first broke that the Alder Street carts would have to move, there was an effort to create a "Culinary Corridor" and place them on SW 9th Avenue. That plan hasn't come together yet, so the North Park Blocks could be considered a temporary location until a more permanent place was found.
If these carts are reborn on the North Park Blocks, the City of Portland should seriously consider making the adjacent streets — NW 8th and NW Park — completely carfree. Imagine being able to stroll and roll on a wide park and plaza space in the heart of our city with such proximity to major destinations like Powell's, the Pearl District, Brewery Blocks, Old Town/Chinatown, and so on.
There's considerable support for carfree streets on city council right now (and there has been for many years). Commissioner Jo Ann Hardesty has said, "I believe in a Portland where you can get where you need to go without using a car." Commissioner Eudaly didn't even own a car for several years while in her twenties and has been a very outspoken critic of driving during her tenure as commissioner-in-charge of PBOT. Her bus-only lane project would remove hundreds of auto parking spaces and drastically reduce driving space throughout the city.
A carfree North Park Blocks could be another section of a future carfree loop in northwest. It's only a matter of time before we prohibit driving on NW 13th. Then all we'd need to do is take the forthcoming major bikeway on NW Flanders one step further and then link those three streets with Couch and we'd have a world-class carfree promenade that would connect neighborhoods and re-vitalize our city.
Here's to hoping. We'll keep you posted on Eudaly's plans.
*NOTE: After posting this, a reader on Facebook commented that he believes this is a, "Blatant attempt to get the unhoused out of that area." I hadn't considered that. It's true that there are several important resources for homeless people around the North Park Blocks. It's worth considering the impact Eudaly's plan would have on them.
— Jonathan Maus: (503) 706-8804, @jonathan_maus on Twitter and jonathan@bikeportland.org
Never miss a story. Sign-up for the daily BP Headlines email.
BikePortland needs your support.