This week we'll share a profile of the Kurten family.
Portlanders Jonathan and Tracy Kurten have been able to replace tricky transit trips and car trips with joyful bike trips — thanks in part to their useful new bikes.

Our Family Biking column is sponsored by Clever Cycles.
➤ Read past entries here.
I've been hearing lot of excited buzz in the family biking community about the relatively new Tern Bicycles GSD. They're one of the few cargo bikes that fits riders short and tall, and they're very compact. The GSD's 20-inch wheels give it the same overall length of a regular bike; but it's long enough to hold two kids in the back. Also, they fold! And they have a zippy mid-drive electric assist which makes them good car-replacements.
Learn more about how these bikes have helped the Kurten family go carfree below…
➤ Tell us about yourself and your family.
We're Jonathan and Tracy Kurten, our kiddos are Julian and Judah. I moved from South Africa with my family in 2000 at which time we lived in South Dakota. Tracy and I met during high school and moved around the midwest for a few years. After a short time living back in South Africa, we decided to return to the US and intended to relocate to the west coast. We immediately fell in love with the valley and we've been living in the area for the last 7 years.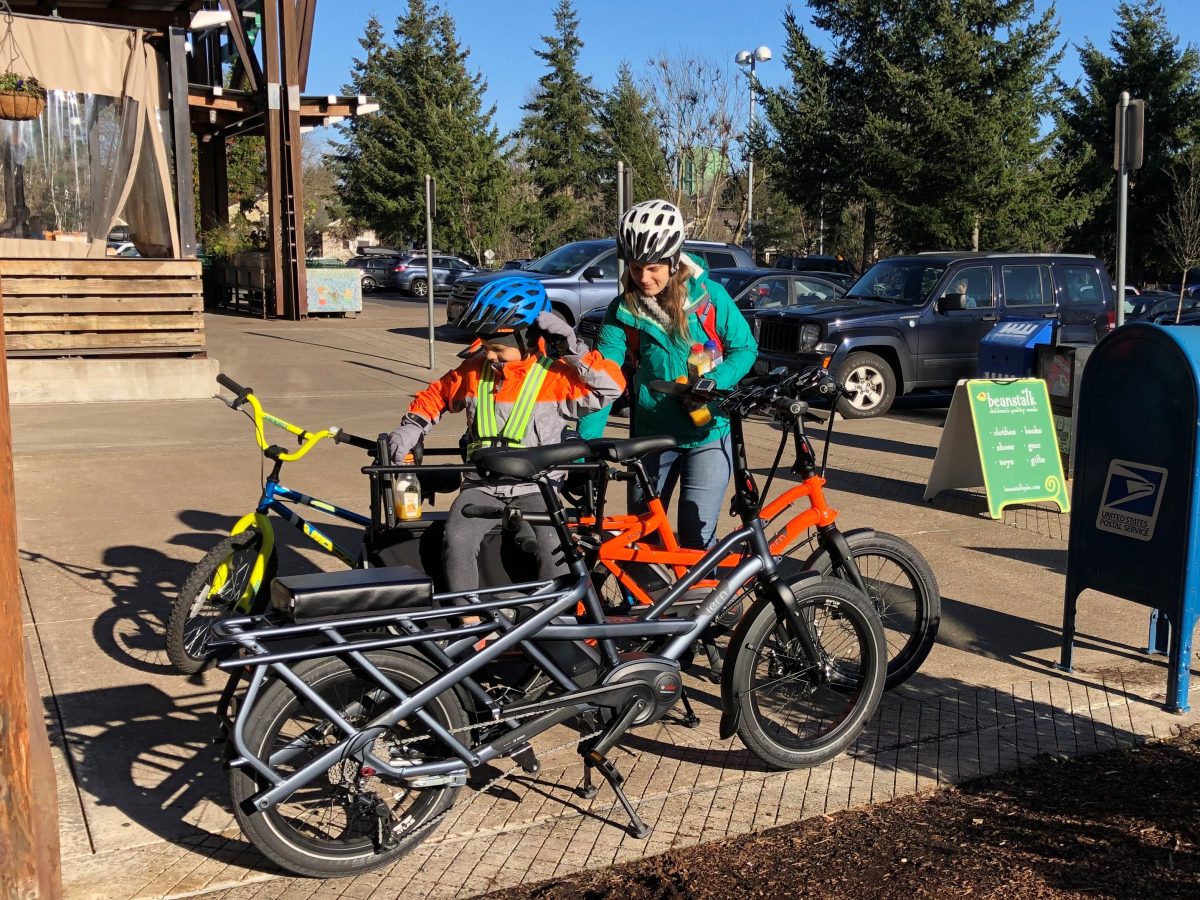 ➤ Tell me about your bike.
We recently traded in our hybrid bikes for 2 Tern GSDs. The kids still each have a manual bike they ride from time to time, but they much prefer to cruise on the back of the GSDs. One GSD is set up with a clubhouse where both boys can ride and pannier bags for any kind of cargo. The other is equipped with sidekick bars and a seat pad for our older boy, when we're traveling as a family and split the kids up.
➤ Is there something you wish you had known before you took your first pedal stroke as a family biker that would have made things easier?
We're pretty lucky in Portland to have a bike shop around every corner. Even so, it's a true bummer to get a flat in the middle of running errands or heading to an appointment. We've learned to keep spare tubes and gear on hand, just in case! This is especially true if your bike has less common sized tires like our bikes do.
➤ Tell us about a typical trip you take on your bike.
I typically bike to work each day, weather permitting, to my office in Old Town. My route includes crossing the Broadway Bridge. We're fairly close to the grocery store, meaning we mostly walk there, but typically make a trip with our bikes once a week to load up with larger items. Both of our boys are involved in soccer, which can mean trips to many different parks around Portland. This was a point of headache at times, timing the bus and walk time needed to arrive at the set time. Having our GSDs has allowed us the ability to pack the necessary equipment and kids and travel on our own time schedule, allowing us ease with both timing and effort.
➤ Tell us about an especially memorable ride in Portland.
We have some family that live in the southern neighborhoods of Portland and have typically only been able to reach them via car or by a long transit trip. Once we had the e-bikes we were able to bike all the way down to them via the Springwater Corridor. We didn't even know this part of the city existed! We've talked at length at how excited we are to discover more nooks and crannies that one can really only discover by bike. Biking in the winter doesn't always sound appealing, but we happened across many neighborhoods and streets with holiday light displays, which felt much more magical at a bike's pace, and bundled up.
➤ If there was one piece of bike infrastructure (street, intersection, bike rack, etc) you use regularly that you could change to improve your life, what would it be?
More protected bike lanes! As a lone rider I typically feel pretty safe, but biking with my kids can be quite the stressful ordeal. The changes made over the last year to Rosa Parks are great. I hope the cities continue to make changes like these, giving cyclist and pedestrians priority over parked vehicles.
➤ Have you biked in other cities and how did it compare?
While we've always biked in towns and cities where we've lived, Portland has been the first city where I've felt comfortable enough to go carfree. Transit and micromobility options are vibrant enough here that this is becoming and more and more reachable as a possibility for residents.
➤ What about rain/snow/wind/extreme heat? Do you bike in less-than-ideal conditions?
Rain, yes. Snow, cautiously maybe? Wind, sure. Extreme heat, effortlessly with an e-bike.
➤ What's your best piece of advice to pass along to BikePortland readers?
Challenge yourself to make biking your primary mode of transportation. You just might find it easier than you thought and you'll almost certainly find that you start to see your city in a whole new way.
➤ Do you have a social media presence you'd like to share?
Feel free to follow me @JoKurten on Twitter.
---
Thank you for sharing your story Jonathan and Tracy.
Remember, we're always looking for people to profile. Get in touch if it sounds like fun to you. I'd especially like to feature families of color so please get in touch or ask friends of color who bike with their kids if they're interested in sharing their stories. And as always, feel free ask questions in the comments below or email me your story ideas and insights at madidotcom [at] gmail [dot] com.
— Madi Carlson, @familyride on Instagram and Twitter
Browse past Family Biking posts here.
Never miss a story. Sign-up for the daily BP Headlines email.
BikePortland needs your support.