As the days get shorter, wetter, and colder it feels like more people are driving faster, less predictably, and more assholishly.

Our Family Biking column is sponsored by Clever Cycles.
➤ Read past entries here.
I used to get all heated-up about people driving unsafely around me and my kids. You know, like a protective mama bear. Grrr. I once angrily pantomimed hanging up a phone at a woman talking on her cell while running a stop sign in front of us and I've even thumped the trunk of a car after its driver barreled into the crosswalk against a red light, coming within an inch of my front wheel.
The thing is, reacting angrily just leaves me with a bad taste in my mouth, not to mention doesn't set the best example for my kids. So I've drastically changed my reactions. I'm not perfect and slip from time-to-time (mama bears gonna mama bear), but keeping my cool has vastly improved my quality of life despite still sharing some roads with people misusing two-ton battering rams.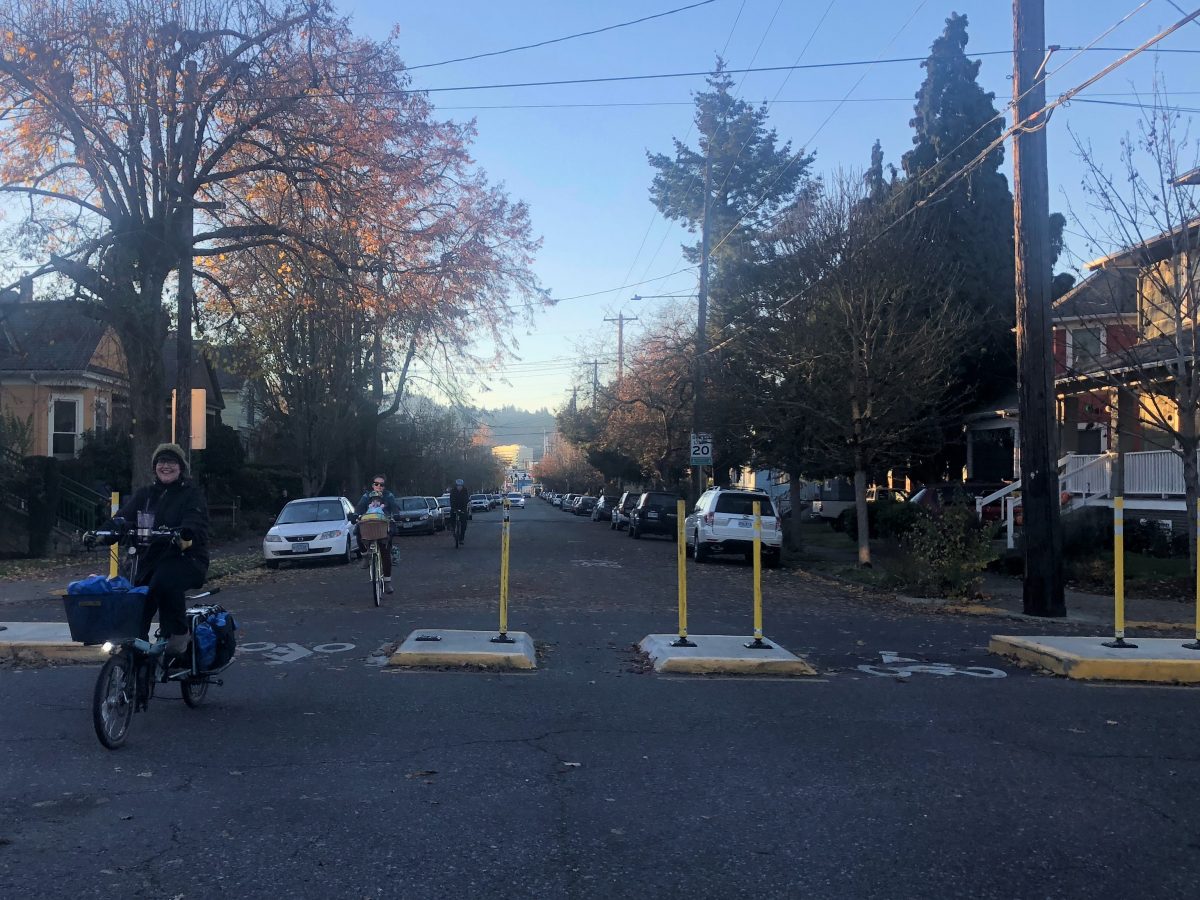 The idea to write this column came to me last week when I watched a man drive his minivan over the diverters at SE 17th and Clinton. He approached the intersection very slowly and without signaling, so I assumed he couldn't decide which way to turn. But as I rolled up to the median (where bicycle riders can cut through, but drivers can't) he forced his car over the cement "barriers" next to me. I couldn't help myself — my eyes went wide and my mouth dropped open as we passed one another. It wasn't the calm reaction I'd like to display for my kids (fortunately they weren't with me at the time).
Now I have a few go-to responses that make me seem more like a well-grounded mom than a raging mama bear.
➤ Smile and wave
Biking with my middle schooler four miles each morning exposes us to at least a couple people each day primed to skip their stop signs (usually crossing Clinton, which is a greenway for crying out loud!) until they notice us on the road. I smile and wave at them all as they belatedly stop and look chagrined. Initially this felt inauthentic, as if I was waving "Thanks for not killing us," but it's just so commonplace for people driving to ignore the right of way that I've accepted it as The Way Things Are. Now it's a pleasant excuse to wave to someone who might wave back.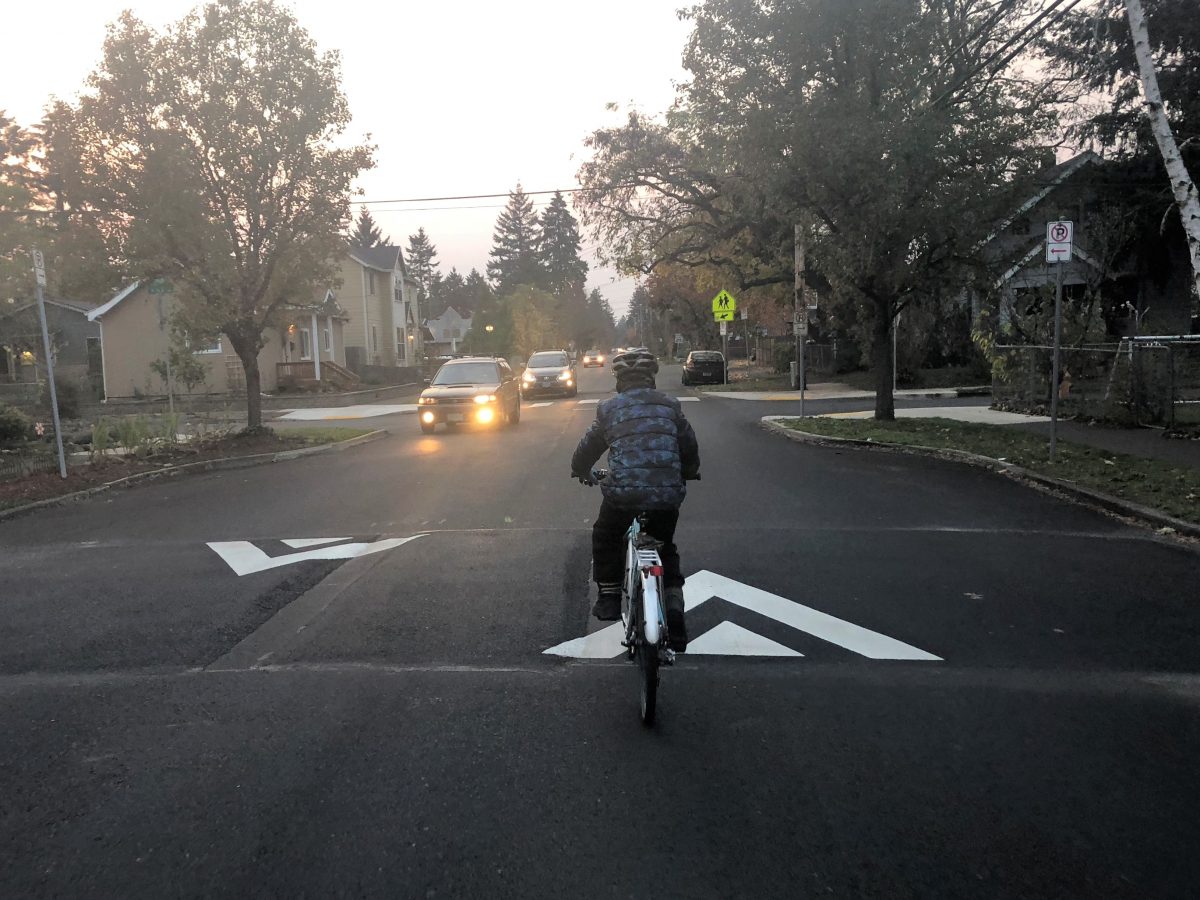 ➤ "Someone's in a hurry"
When we see people speeding I've taken to saying, "Wow, that guy is really in a hurry." I've gotten so good at it, I say it when I'm with other adults. I've even caught myself muttering it aloud when I'm all alone. It's much easier on the soul than shouting, "Slow down!"
➤ Tally the red-light runners
We bike out of our way to avoid using busy streets, but we can't avoid crossing big ones. For the aforementioned four-mile middle school commute we cross three big streets with lights and two without. While waiting for our light to turn green we calmly count and comment on the people who drive through yellow and red lights. It really sucks how many people run red lights, but it serves as a good opportunity for me to remind my kids to always check the intersection, even when the light is green.
➤ "That was scary"
I often think back to something Katie Proctor (co-founder of Kidical Mass PDX in 2010 and more recently proprietor of Books with Pictures comic book store) wrote years ago on Facebook. She presented the idea of saying, "You scared me!" as a way of sharing your feelings and acknowledging the severity of the situation without being so accusatory as to invite a defensive response. I checked in with her for an update since Facebook's search function leaves a lot to be desired and I couldn't remember exactly what she said back then. Here's what she says now:
"These days, I might even lean toward 'Wow, that was scary!' over 'You scared me,' as a way to center your shared experience — whatever just happened probably scared the crap out of both of you — and that then gives you room to de-escalate: 'Can we take a minute to catch our breaths before we talk about it?' Which will make any following conversation more productive."
I still love this sentiment, as well as her advice to train oneself to yell "You scared me!" — in place of what you might otherwise yell — to model good behavior in front of kids.
➤ Obligatory word on safety
You know I don't make a habit of talking about safety, but I do like to use appropriate opportunities to point out that intersections are The Worst. Two of the most common types of bike crashes are left hooks: when an oncoming car driver turns left into a person on a bike who was heading straight, and right hooks: when a person turns right, not noticing that there was a person on a bike to their right heading straight.
I love getting around by bike and feel carefree while doing it, but I also don't trust anyone driving near me to notice me or to obey the law. I might look oddly suspicious as I check one-way roads for wrong-way drivers before I cross them and act stubbornly exasperated when I get into "you-go-no-you-go" hand waving wars with people who have failed to stop for me at intersections that I refuse to trust to now stay stopped.
Tl;dr: You can't be too safe, but it doesn't take any of the joy out of getting around by bike.
About that photo at the top of this post: It happened a week ago, and an hour after I'd nearly been plowed into in that very intersection. I've never been hit by a car, and this was the closest I'd ever come. Thank goodness the kids weren't with me because I may have forgotten my collection of suitable reactions. I was only with my dog Pixie and I had to slam on my brakes to avoid being left-hooked by a woman I had mistakenly thought noticed me. I fumed for a while as I pedaled away. By the time my son and I got back and saw the aftermath of this crash I was able to take it in calmly with him. We surmised no one had been injured and I told him about my earlier near-miss. And then the subject switched to his latest hobby, making up titles for Avengers/Harry Potter mashup movies ("Avengers: Accio Wands!") and things were the same as they ever were.
What about you? How do you react in these sorts of situations? Please share in the comments! Thanks for reading.
Remember, we're always looking for people to profile. Get in touch if it sounds like fun to you. I'd especially like to feature families of color so please get in touch or ask friends of color who bike with their kids if they're interested in sharing their stories. And as always, feel free ask questions in the comments below or email me your story ideas and insights at madidotcom [at] gmail [dot] com.
— Madi Carlson, @familyride on Instagram and Twitter
Browse past Family Biking posts here.
Never miss a story. Sign-up for the daily BP Headlines email.
BikePortland needs your support.