This post is by our activism co-editor Catie Gould, a very busy local transportation activist who has a full-time job on the side.
——
Does the New Year have you hoping to get more done?
Certainly the times demand a lot of us. How on earth can we manage everything — working, doing the laundry, spending time with loved ones — all while finding time to reform our transportation system and combat climate change in a way that doesn't burn us out?
Often overwhelmed myself, I sought out the advice from two of my Portland heroes. I hope their stories help you stay effective and inspired!
Alison Percifield – Bike Farm (and many other things)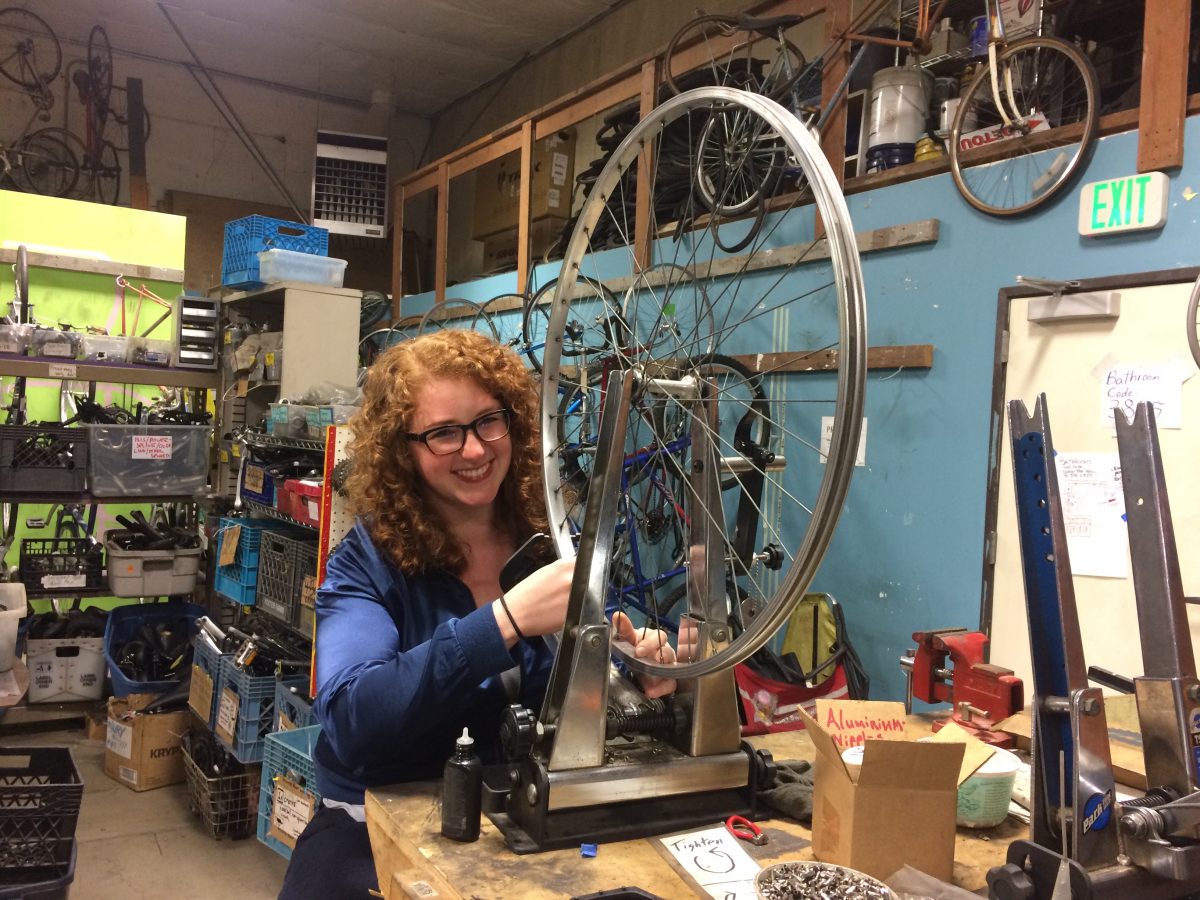 When Alison Percifield moved to Portland from Chicago three years ago her car broke down along the way and she didn't have money to buy a new one. That's how she became a bike commuter and found her way to Bike Farm, a nonprofit, all-volunteer collective that teaches people about bicycles. Alison recounted, "I think the best thing I ever did for my life was move to a new city because I didn't have any friends." She occupied her time by getting involved with different organizations and meeting people that way. "All these positive life changes happened from me deciding to be super busy."
"All these positive life changes happened from me deciding to be super busy."
And she is super busy. When she stepped up as the President of Bike Farm six months ago she didn't think she would get promoted at work. "I wanted to be a leader somewhere," she told me. But both happened. She is also starting an internship on the Board of Directors at the Portland Institute of Contemporary Art (PICA) as part of course in managing non-profits and cleans a pilates studio in exchange for a free membership. "I'm doing something every weekday after work that is essentially a job."
Alison sat down for our interview with a list she had prepared ahead of time. "I'm a huge fan of lists". She has a notebook that she keeps just for lists and switches between them. "If I'm ever needing a break from something it's normally with another productive task."
Removing decision making and relying on a routine helps reduce her stress. She bikes to work every day in her workout clothes and sets her shoes out the night before. She prepares all her food for the week on Sundays while listening to her favorite CD. "Lunch is my big meal of the day so I put a lot of effort into it." She gets a lot of recipe ideas from the vegan food blog The First Mess.
In addition to volunteering every Wednesday at Bike Farm, she spends another two to three hours a week responding to email and doing paperwork during her breaks throughout the day. On Fridays though, she clocks out. "I feel like delineating between week and weekend, creating that mental break for me is important."
Alison has two mentors and checks in with them monthly. "It's important for me to hear how people think I should be pushed forward and what my weaknesses are." Things she is currently working on: slowing down enough to make sure people don't feel like an item on her calendar. She also wants to make sure she is bringing people with her as she moves forward. Doing 90% of a task and then handing it off to someone else builds buy-in and makes sure other people can do the work in the future. "I don't think it will always be like this. I want to live it up while I'm in this time of my life that is super productive, and in five — or one — year from now when I'm not feeling it, I'll move on to something else."
Iain MacKenzie – Architect, urbanist, and Next Portland blogger
Architect Iain MacKenzie moved to Portland during the depths of the recession in 2009. When new development started coming back he wanted an easier way to keep up with the information. He got the idea for the Next Portland one afternoon at the office. Later that night, it was live. "It was super easy to create, what took a lot of time was keeping it going."
Iain spends five to ten hours a week reading through material and writing posts for the blog. In the four years he's worked at it he's settled into a routine.
"I've definitely had people make fun of me because they have caught city council meetings on my screen."
For the weekly "Metro Reports" post he scans the Portland Bureau of Development Services website every Monday morning for a report that includes everything from simple bathroom remodels to new buildings. "I'm quite good at scanning those now." He also saves the weekly agenda of the Design Review Commission onto his computer to archive them. Drawings for buildings going through design review are published a week ahead of time, and if he's pretty sure it's going to get approved he puts together a post ahead of time.
For Iain, keeping it simple is key. "I'm not trying to argue that this building is great or its terrible or anything. I'm just going to say it's seven stories tall and it has this many units and this many parking spaces."
Iain mostly writes in the evenings or on the weekends, but often finishes up a post during his lunch break, hitting publish around 12:45. He gets suggestions from fans about what else he could be doing with the site, but he's busy enough right now. His general goal is to post five times a week; but the day that we talked he had only finished two.
"Honestly, if I had realized that I was going to be doing this much work for four years at this point, I probably wouldn't have started it," he said with a laugh. Iain has no plans on quitting. While other people listen to music or podcasts at work, Iain prefers to listen to design review or land use hearings. "I've definitely had people make fun of me because they have caught city council meetings on my screen."
For others who want to make advocacy a bigger part of their lives, Iain stressed that its about consistently putting effort in every week. "It's got to be something you care about and find interesting."
Thank you Alison and Iain for sharing your stories. I hope you are all having a happy, healthy, and productive New Year so far!
— Catie Gould, @Citizen_Cate on Twitter
Never miss a story. Sign-up for the daily BP Headlines email.
BikePortland needs your support.