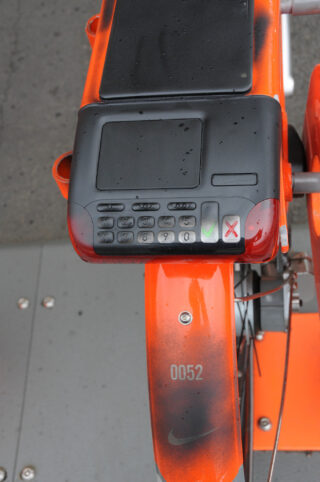 The Oregonian reported Tuesday that about 450 new keypads are on their way to Biketown bikes in the coming months.
This will be music to the ears of many of you as we've heard numerous complaints about unresponsive keypads for months now. Unlike older kiosk-based systems, the "smart" Biketown bikes the keypads are built into the rear rack. Users must enter a PIN and/or a six-digit rental code to unlock a bike. With over two years of wear-and-tear, many of the keypads simply don't work anymore. You press the button and either nothing happens or there's a frustratingly long delay.
Just over a month ago, I ran into this problem when I tried to rent a bike to get home from downtown after a meeting. There weren't many bikes available and I tried the keypads on two before I gave up. I eventually tracked down an e-scooter and got home.
The next morning I contacted Biketown's operator Motivate Inc. and asked General Manager Dorothy Mitchell about the problem. Biketown Marketing Manager Tom Rousculp blamed the problem on their vendor, Jump Bikes (formerly Social Bicycles). He said they'd been, "experiencing connectivity issues, including a system-wide outage over the past week that resulted in a number of unresponsive bikes."
Here's more from The Oregonian:
"Biketown officials believe they have a solution to the keypad issue, and they say the city won't have to foot the bill for the new parts. But the changes could take several months to implement and would initially improve only about half of the 1,000-bike fleet.

Maintenance staff now has access to about 450 sets of new keypads, and Biketown hopes to replace the entire fleet of keypads over the next several months. Crews already replaced 53 keypads on individual bikes and recently swapped out 60 others' controllers, which function as the brains of the bike and include the keypad.


Dylan Rivera, Portland Bureau of Transportation spokesman, said the city, bike operator Motivate, and bike maker Social Bicycles, have all been trying to find a solution as quickly as possible.

According to the city, the keypads' cost is covered under the bike maker's warranty. The first wave of replacements could take several months. Biketown could order more if they are needed, but Rivera said the city wasn't sure how many keypads need to replaced.

Biketown's contract with Motivate is up in July 2019, and Mitchell said its future bike rental contracts would likely have a different unlocking system."
What happens next summer once the current contract is up is anyone's guess at this point. But it's very likely that we won't see a big re-investment in the current system. Since Biketown launched in 2016, the industry has moved completely toward electric vehicles — both bikes and scooters.
The hottest bike share bikes at the moment are offered by Jump Bikes (now owned by Uber, which happens to be the corporate rival of Lyft, the company that recently bought Biketown operator Motivate). Jump's system is 100% dockless e-bikes that are unlocked with an app, not a keypad.
I tracked down Jump's CEO and Founder Ryan Rzepecki at the North American Bike Share Association Conference held in Portland earlier this month. Rzepecki was mostly tight-lipped about whether or not Portland was next on Jump's list. "I can't say a whole lot right now. We're still talking to PBOT," he said. "At this stage, we'd like to bring this technology to Portland, but we're still talking to PBOT to figure out what it would look like."
"It's complicated," Rzepecki added, likely referring to the maze of corporate interests and contractual obligations Portland will have to make it through before signing a new contract next summer.
Whatever happens to Biketown, the future does not look bright for non-electrified options. "Light electric mobility" is the new wave, at least according to Rzepecki. "Regular pedal bikes never showed the type of growth and traction as you're seeing with electric vehicles," he said when I asked him about the new kid on the sharing block.
"The amount of people interested in riding e-bikes or e-scooters is much higher than folks riding a pedal bike because this is mostly about transportation and not recreation or exercise. It's about getting where you're going quickly, conveniently, without breaking a sweat. And electric mobility offers that in a way that pedal bikes don't."
That might be the case, but in the meantime, we need our old-fashioned pedal bikes to have functioning equipment. Stay tuned for more reporting on the rollout of the new Biketown keypads.
— Jonathan Maus: (503) 706-8804, @jonathan_maus on Twitter and jonathan@bikeportland.org
Never miss a story. Sign-up for the daily BP Headlines email.
BikePortland needs your support.