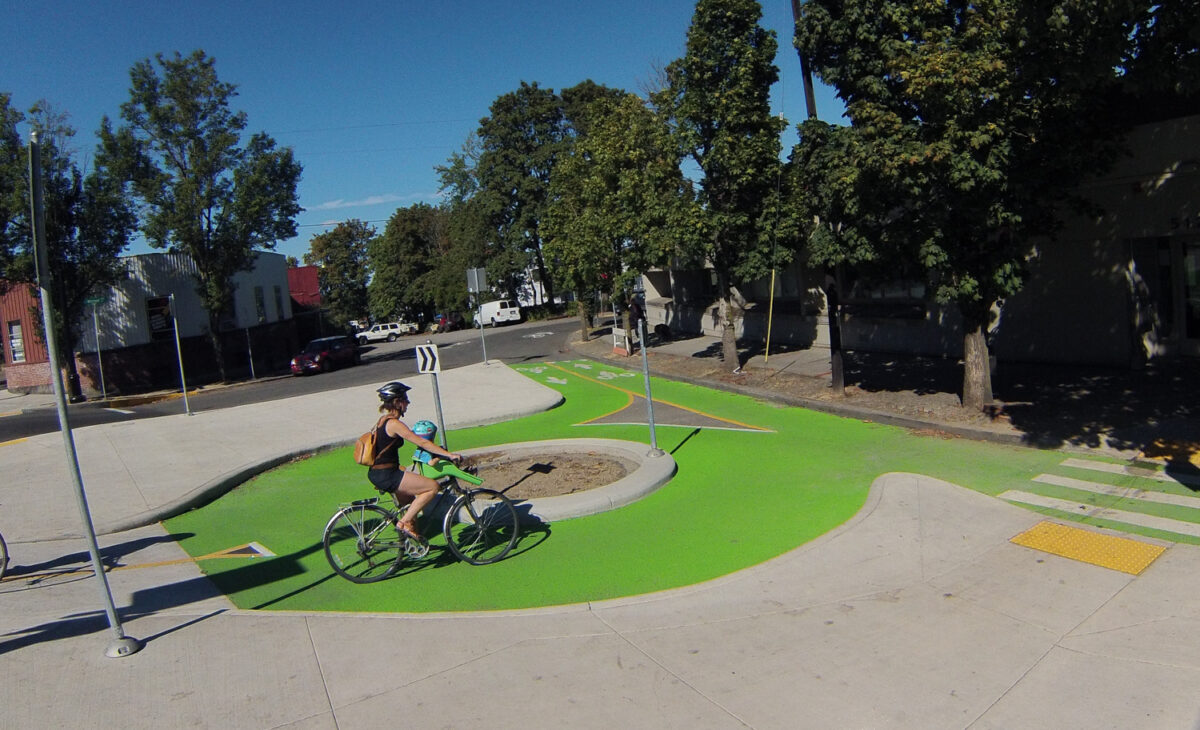 Portland traffic engineers and planners have a new favorite treatment when two bike routes intersect: a traffic circle!

As part of the SE 19th Neighborhood Greenway project in Sellwood, the Bureau of Transportation has installed a large median and roundabout at the intersection of SE Milwaukie and Mitchell. In what used to be a wide-open intersection across from Oaks Bottom Wildlife Refuge trailhead is now a traffic-calming island and green pathways that connect to a new flashing beacon and crosswalk.
It's been almost two years since we covered the city's first bicycle roundabout on NE 21st. After that debuted, PBOT proposed another one on the northern landing of the forthcoming Sullivan's Crossing bridge in the Lloyd. That one didn't make the final design cut, but that didn't stop them from proposing another one on NE Ainsworth as part of the Lloyd to Woodlawn Greenway project.
The one at Milwaukie and Mitchell is much more robust than any of the designs built or proposed so far. The median is very big relative to traditional designs. It could be a nice plaza if they put a few benches on it and maybe a piece of public art or two. From a user perspective, it's pretty self-explanatory. That's in part because PBOT spared no expense with their use of bright green thermoplastic on the pavement and wayfinding signage on each end.
If you want to go from Milwaukie northbound to Mitchell in order to cross McLoughlin at 17th — or vice versa — you just continue through on the curbside. If you want to head west toward the Springwater via Oaks Bottom (or onto southbound Milwaukie, which isn't a nice place to ride), the circle drops you right at a nice new crossing. Just push the button (not sure why all these aren't outfitted with automatic loop sensors) and the lights flash. With a more narrow cross-section on Milwaukie and the addition of caution signs and crosswalk markings, people seem much more willing to stop and wait for crossers.
While I was out there last weekend I saw all types of riders using the circle. It's definitely not a standard design so it might take some getting used to. Overall it feels like a nice improvement compared to the old intersection that provided zero protection for vulnerable users and did nothing to calm traffic.
It's also pretty fun to zoom around it a few extra times if you're in the mood…
Have you ridden this yet? What do you think?
— Jonathan Maus: (503) 706-8804, @jonathan_maus on Twitter and jonathan@bikeportland.org
Never miss a story. Sign-up for the daily BP Headlines email.
BikePortland needs your support.
If you have questions or feedback about this site or my work, feel free to contact me at @jonathan_maus on Twitter, via email at maus.jonathan@gmail.com, or phone/text at 503-706-8804. Also, if you read and appreciate this site, please become a supporter.