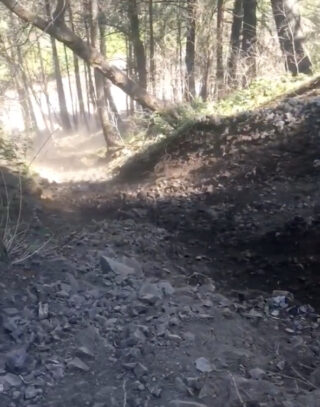 Bummer news from the Oregon Department of Transportation: New rockslides have set back their plans to reopen six miles of the Historic Columbia River Highway that have been closed since last fall due to the Eagle Creek Fire.
The slides happened on the section of highway between Bridal Veil and Ainsworth State Park. As we reported last month, ODOT hoped to reopen that section of road with an experimental new lane configuration in September.
In a statement yesterday, ODOT Region 1 Manager Rian Windsheimer said, "This setback is a real disappointment to us. Our crews have been working hard to get these areas cleared. But there's plenty to do before we can safely reopen the road."
Video (below) of one of the slides near Horsetail Falls, taken by the US Forest Service, shows rocks rolling down a steep hill directly onto the highway.

The new lane configuration ODOT expected to reopen the highway with this fall would have allowed drivers to only use the eastbound lane while the westbound lane would be for walking and biking only. Many of you expressed excitement for that plan; but at least one commenter on our story (with the username "local resident") wasn't happy about it at all:
"You do all realize that there are people who live out here, though, correct? Many people from Portland like to think of (and treat) the Gorge like it's their playground, but this is our home, and this is causing a lot of frustration and inconvenience to those who actually reside here. Things like this are part of what creates animosity towards bicyclists; the idea that miles of a working road should be shut down just for people to have a nice bike ride (when there are many other bike-only paths in the area). We are happy to share our lovely space (we think it's awesome—that's why we live here!), but this is almost like a slap in the face to those who live here."
ODOT hasn't announced a new timeline for the reopening. At least now they have more time to make the case for the carfree lane and (hopefully) mollify those who don't approve of the idea.
— Jonathan Maus: (503) 706-8804, @jonathan_maus on Twitter and jonathan@bikeportland.org
Never miss a story. Sign-up for the daily BP Headlines email.
BikePortland needs your support.