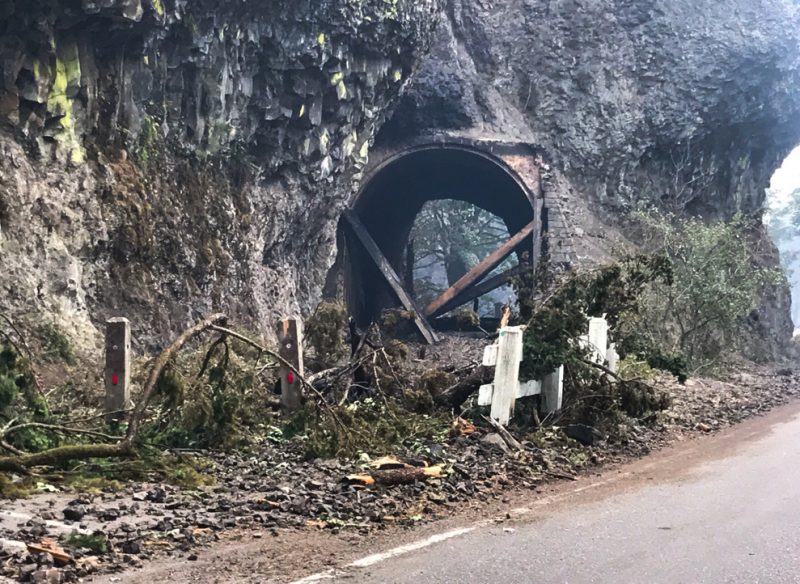 The Eagle Creek Fire is still raging in the Gorge and we've been reaching out to sources to find out how much impact it has had on the Historic Columbia River Highway and State Trail. Just one year ago we joined a big group of riders and dignitaries for a triumphant centennial celebration of the legendary road. And today it feels like it'll be another hundred years before things are back to normal.
The good news is not all has been lost. Reports yesterday from fire officials were heartening. But what about those pictures of our dear Oneonta Tunnel engulfed in flames?! We've been as eager as you to know more.
This morning I heard back from Kristen Stallman, the outgoing Columbia River Gorge National Scenic Area Coordinator for the Oregon Department of Transportation. Stallman has worked on the Historic Highway project for years and her connection to it transcends her job title. Here's what she had to say about where things stand today (emphases mine):
As you can imagine we have had some challenging days around here. Courageous folks including the ODOT maintenance crews are working really hard to protect our beautiful Historic Columbia River Highway and the amazing investments that have been made to the Historic Columbia River Highway State Trail over the past thirty years. For now we are in a wait and see pattern. Hopefully mother nature cooperates. We really don't know too much but here are some updates.

I think I may have seen the same photos of the Oneonta Tunnel as you did. The image leaves a pit in my stomach. The wood liner was primarily cosmetic, however, we will need to assess any heat-related damage to the structural concrete under the wood once it is safe to visit the site.

A major concern after the fire crisis is under control will be the integrity of the roadway once the rain starts again this winter. The slopes will be unstable. Trees and vegetation that held the rocks and steep slopes together are now gone and may be a recipe for more landslides and extensive rock fall. The Historic Highway may be closed for several weeks following the incident.

ODOT and our partners (Multnomah County, US Forest Service, and Oregon Parks and Recreation Department) were excited to kick off the Historic Columbia River Highway Congestion Mitigation and Safety Plan this month. This is a great opportunity to reimagine how visitors will access the Columbia River Gorge focusing on the scenic and much-loved segment between Portland Women's' Forum to Ainsworth (Vista House and Multnomah Falls). We call this segment the "waterfall corridor" and it is the most congested segment along the Historic Highway. This is also the segment most impacted by the fire.

Again, we will be meeting in the coming days and weeks to determine how to move forward. The good news is we collected our parking data and bicycle and pedestrian counts the weekend prior to the fire. We are hopeful that the tube counters were not damaged.

The Columbia Gorge Express will not be running this weekend on account of the fire. We have had a busy summer so far exceeding last years' numbers.

So far the new trail segments under construction east of Wyeth are OK. The contractors have pulled out their equipment and construction has halted. They were working on the next connection of trail between Wyeth and Lindsey Creek. Fingers crossed we can continue construction soon. This will be an amazing section of the trail once it is complete (Spring 2019). The new trail will include safe passage around Shellrock Mountain, beautiful new structures inspired by the historic bridges and rare opportunities to pull the trail away from the Interstate and get on some old pavement segments.

The work on Mitchell Point has also started. We are working on the geotechnical investigations to help us figure out the condition of the rock so the engineers can better evaluate the crossing alternatives. The alternatives include various tunnels, bridges and using the existing ledges for the trail surface. The Historic Columbia River Highway Advisory Committee will be making recommendations of their preferred alternative this coming spring.

We are making great progress but it is important to recognize the trail is not completely funded. We still have some challenging trail segments to fund west of Hood River and east of Viento State Park. We have made tremendous progress and hopefully, mother nature cooperates.

Let's all hope for the best.

-Kristen Stallman
Strategic Policy Advisor
Oregon Department of Transportation/Region 1
Thank you Kristen. And thank you ODOT for your work on the fire and for making this project such a high priority. We stand ready to help in any way we can to complete the Historic Highway and bring it back to the full splendor of its pre-fire state as soon as possible.
— Jonathan Maus: (503) 706-8804, @jonathan_maus on Twitter and jonathan@bikeportland.org
Never miss a story. Sign-up for the daily BP Headlines email.
BikePortland needs your support.
If you have questions or feedback about this site or my work, feel free to contact me at @jonathan_maus on Twitter, via email at maus.jonathan@gmail.com, or phone/text at 503-706-8804. Also, if you read and appreciate this site, please become a supporter.