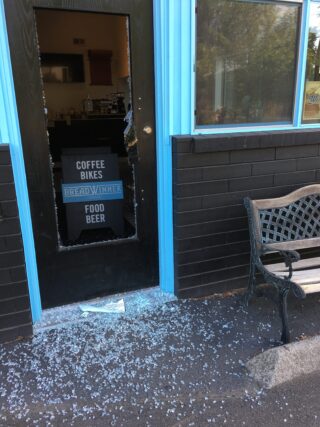 Be on the lookout: Breadwinner Cycles in north Portland was broken into last night and the thieves stole two bikes.
Co-owner Ira Ryan contacted us with the news this morning. He said someone smashed through their glass front door, waltzed into the shop and took the bikes and a company laptop.
According to Ryan the bike that was taken is a red, Lolo model road bike with the name "J. Daugherty" on the top tube. To make matters worse, the bike belonged to a customer from Washington that was planning to come to Portland this Thursday to pick it up. The other bike that was stolen is a blue, prototype dirt-jumper model. Scroll down to see both bikes…



Breadwinner, the bike company formerly based out of Ryan's garage, opened in this new location and expanded into a cafe last winter. Ryan says the cafe and shop will be open for business today once all the broken glass is cleaned up.
"We are bummed, but determined to carry on of course," Ryan said via text this morning.
If you see either of these bikes, please contact Portland Police non-emergency line at (503) 823-3333 and/or drop us a line and we can put you in touch with Breadwinner.
— Jonathan Maus: (503) 706-8804, @jonathan_maus on Twitter and jonathan@bikeportland.org
Never miss a story. Sign-up for the daily BP Headlines email.
BikePortland needs your support.