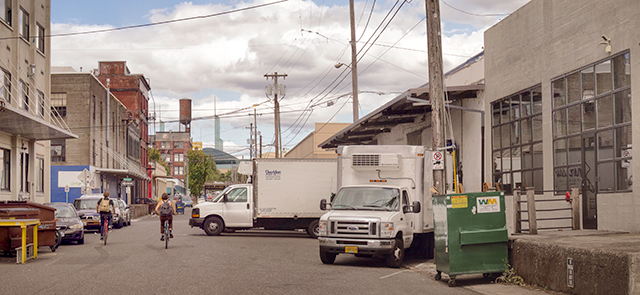 If Portland is to ever reach its transportation (and climate change and vision zero) goals, the Central Eastside Industrial District must evolve into a place where more people can safely and efficiently ride bicycles. Bordered by the Willamette River, SE Powell Blvd, 12th Avenue and I-84, this area is often avoided by bicycle riders. But now, after years of work by advocates and City of Portland staff, it appears there are some positive signs of change on the horizon.

"I believe that cyclists are a huge and growing part of the Central Eastside District… That being said, I believe that cars are still a big part of society, and we need some way to deliver goods."
— Rina Jimmerson, CEIC Transportation and Parking Advisory Committee program manager
When it comes to cycling, this part of the city has long been hamstrung by two key issues: A heavy industrial land-use pattern where big trucks and loading docks dominate, and influential business owners skeptical of anything that might change that. As I've grown up around local transportation advocacy circles, I've heard stories about how the Central Eastside Industrial Council (CEIC), an association of businesses and landowners, was constantly at loggerheads with the City of Portland and just wanted to be left alone as an "industrial sanctuary". The only change the CEIC wanted on their streets was more car parking.
But in the past five years, relations between the Portland Bureau of Transportation and the CEIC have begun to thaw.
In 2012 PBOT and the CEIC worked together to on a parking management plan that included a system of permits and metered spaces to better manage demand and existing supply. It also created a revenue stream for the CEIC via a surcharge on the permits. The deal cut between the City of Portland and this business association has led to the creation of the CEIC Transportation and Parking Advisory Committee (TPAC) — the only non-city affiliated group that manages parking revenue.
It's an odd arrangement for the City to funnel parking revenue to a non-governmental entity that in turn gets to decide how the money is spent. I touched on this tension last month when I reported on an unpublicized meeting between the CEIC and PBOT staff and consultants that was held to gather feedback on the Central City in Motion project.
As parking permit surchanges have increased from $70 per year in 2016, to $210 in 2017, and to $300 this year — the CEIC TPAC's budget has grown to over $1 million per year. That's a significant chunk of change. The permit program has been hailed by parking activists; but having pursestrings for transportation projects in such a key part of the city controlled by the CEIC makes PBOT a bit nervous.
The CEIC had always been a "pay to play" organization, with membership fees ranging from $170 to $550 based on company size. That all changed last year when PBOT Director Leah Treat stepped in to urge the group to open up their TPAC meetings to non dues-paying members. There was also much consternation about what the TPAC decided to fund last year.
According to a copy of that budget obtained by BikePortland, the CEIC's TPAC had $1,477,714 in total funds. After spending $198,000 on staff and expenses, they had $1,255,000 to spend on transportation projects and prgrams. The CEIC's budget included: a $300,000-a-year program to "clean up" streets where people frequently sleep; $90,000 a year to buy mechanical car elevators and lease them to private landowners in the district to increase the number of private parking spaces; and a $30,000 program to reduce or eliminate the cost of on-street parking for residents of nearby residential neighborhoods.
The one-year budget also included:
$250,000 for a rush-hour shuttle service that would move people nine blocks between the Burnside Bridgehead's new office buildings and parking lots near the Morrison Bridge
$127,500 to subsidize TriMet, Streetcar and Biketown passes for employees in the district
$125,000 to study the possible benefits of a new parking garage for the district
$50,000 a year toward building a new bike-walk bridge across Interstate 84 at or near Northeast 7th Avenue
$50,000 a year to help the Portland Streetcar save money to buy new streetcars, reducing the time between cars
With new leadership at the CEIC, growing pressure on the fast-changing district to become more human-scale, and with PBOT champing at the bit to deliver on the (fully-funded) Central City in Motion project, some see a golden opportunity to influence the future of this vital part of the central city.
As the CEIC has gained office space and residential units, the pressure to make its streets more welcoming for non-truck traffic has grown. We've seen a growth in bicycle trips and bike-related businesses based in the district, and there are signs from the CEIC itself that a warmer embrace of active transportation is in their future.
Next Thursday (4/26) they'll host their annual CEIC Transportation and Parking Open House event. "It's the perfect opportunity to meet your neighbors and take part in shaping our Central Eastside community," reads the event description. Also notable is a shout-out to local bike-related businesses involved in the event like Showers Pass, B-Line Urban Delivery, Portland Pedal Power and Renovo.
Another positive sign is the recent hire of Rina Jimmerson as the CEIC TPAC Program Manager. Jimmerson is an urban planner and native of Montreal who worked as chief of staff for three mayors and most recently lived in New Delhi, India where she was a translator and teacher. She moved to Portland in 2016 and lives in the central eastside's Buckman neighborhood. I first spotted her at the PBOT Bicycle Advisory Committee meeting last week and have since followed up via email to learn a bit more about her.
Asked via email how she sees the future of bicycle use in the CEIC, Jimmerson wrote:
"I believe that cyclists are a huge and growing part of the Central Eastside District and all of Portland in the future for so many reasons: people are more and more health conscious, environmentally conscious and the truth is, we would all like to see more people on the streets and out of their cars. That being said, I believe that cars are still a big part of society, and we need some way to deliver goods. Safe routes for all forms of transportation are crucial. After all, the reality is that not everyone can bicycle to work whether it be because of the physical capacities to do so – especially long distance, the temperature, family situations and the list goes on. You will laugh but I have been thinking about importing a Rickshaw from India for myself."
Unfortunately Jimmerson doesn't bike in the area herself. "I started to bike in Portland when I first arrived," she shared, "but I found it too dangerous." She said she's carfree and she walks, carpools or takes rideshares. She would be bike, but she's still used to being separated from auto traffic — a common occurrence on Montreal's vaunted network of physically protected bikeways.
Jimmerson isn't the only new face at the CEIC. They have a new executive director (Kate Merrill) and there's a sense from advocates that a new guard is emerging. With so much growth coming to the district, and with a few doors of opportunity cracked open, the time is now to support fresh perspectives and set the central eastside on a new course. Their next budget is likely to be around $1.5 million. How it gets spent will be decided by whoever shows up.
If you live or work or ride or own a business in the central eastside, please step up and make your voice heard.
CEIC Transportation & Parking Open House
Thursday, April 26th from 4:30 to 7:00 pm
Portland Night Market (100 SE Alder Street)
(More info here)
— Jonathan Maus, (503) 706-8804, @jonathan_maus on Twitter and jonathan@bikeportland.org
Additional reporting for this story by Michael Andersen.
Never miss a story. Sign-up for the daily BP Headlines email.
BikePortland needs your support.