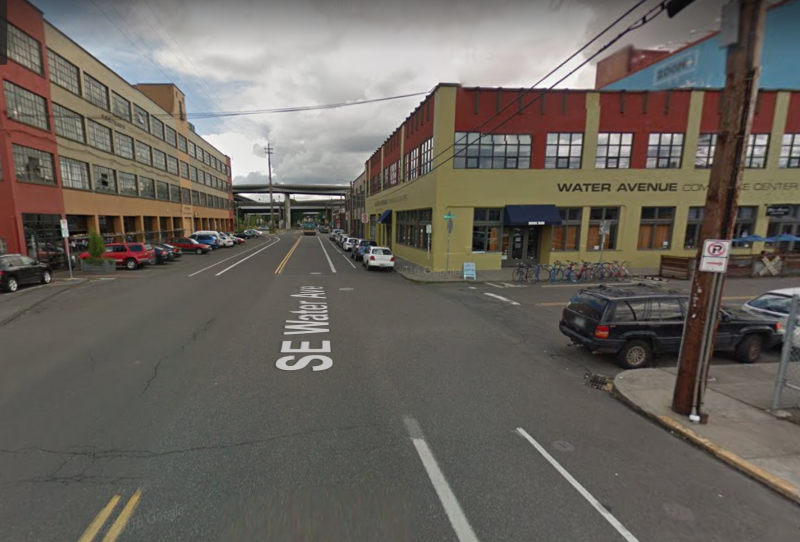 UPDATE, 4:25 pm: Police have identified the bicycle rider as Tamar Monhait, a resident of Portland. They have also just added this to their original statement: "The Portland Police Bureau's Traffic Division wishes to remind all bicyclists to wear an approved bicycle helmet. Additionally, bicyclists should operate with a front-facing white light and a rear-facing red light while operating a bicycle in low-light or dark conditions."
—
A 41-year-old woman died early this morning while riding her bike in the central eastside.

A Portland Police Bureau statement says the woman was riding northbound on SE Water Avenue at Taylor just after 1:00 am. At the same time, a person was driving a garbage truck southbound on Water Avenue. The garbage truck driver turned left to go eastbound on Taylor just prior to the collision with the bicycle rider. Here's how the PPB explains it:
Officers and medical personnel arrived and located a cyclist lying on the ground with life-threatening injuries and a garbage truck. Emergency medical personnel provided medical aid and transported the bicyclist to an area hospital where the 41-year-old woman died.

During the investigation, officers learned at the time of the crash the garbage truck had turned east onto Southeast Taylor Street from southbound Southeast Water Avenue. While turning onto Southeast Taylor Street, a northbound bicyclist, on Southeast Water Avenue, collided with the side of the garbage truck and suffered traumatic injuries to her head and arm.
This section of the central eastside is changing rapidly. It has historically been an industrial zone; but the development of office buildings and associated cafes and shops has led to a shift in traffic. Taylor and Water are also major connections to the Eastbank Esplanade path and Hawthorne Bridge.
The PPB says they don't suspect that the driver was impaired and they are still investigating the crash. If you saw anything, or if you own a residence or business nearby and have access to surveillance video, please contact PPB Officer Phil Maynard at (503) 823-2216.
This woman is the second person to die while bicycling in Portland this year. 53-year-old Alan Marsan died on February 6th after he was involved in a collision with a large truck on North Interstate Avenue.
— Jonathan Maus: (503) 706-8804, @jonathan_maus on Twitter and jonathan@bikeportland.org
Never miss a story. Sign-up for the daily BP Headlines email.
BikePortland needs your support.