Our Family Biking column is sponsored by Clever Cycles.
➤ Read past entries here.
There's no debate about helmet use for kids (heck, even most kids in Copenhagen wear them!). Opinions aside, it's an Oregon law that everyone 15 years or younger has to wear one. But that doesn't mean it's as easy as snapping a buckle.
Getting a helmet on a kid is one of the toughest parts of family biking.
Over the years I've developed my own collection of tricks to take the hassle out of helmets. Today we'll talk about where to buy them, choosing the right one, how to fit them — and of course, how to have fun while doing it.

Fit
Helmet fit isn't exactly the same as helmet comfort, but they're related. And since they're going to wear a helmet anyways, it should fit them well. I'm partial to the eyes/ears/mouth helmet fit test and have demonstrated it to hundreds of kids before Kidical Mass rides and bike rodeos: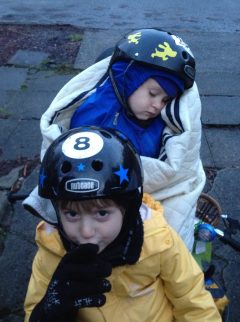 ➤ Eyes: When you look up you should see the brim of your helmet. This lets you know it's positioned level on your head.
➤ Ears: Your helmet straps should form a V right under your ear.
➤ Mouth: When you open your mouth, you should feel the straps against your chin. You can also check proper chin strap tightness by being able to fit only two fingers between your chin and strap when your mouth is closed.
I like the additional step on the City of Portland's How to Fit a Helmet web page: "When the helmet is sitting on your head (even when it's not buckled) it shouldn't move very much when shaking your head 'yes' or 'no.'"
If you're more of a video learner, here's a 27-second helmet fit video from Safe Kids Worldwide:

Choosing a helmet
Helmets fit differently, so the best way to ensure a good fit is to bring your kiddo along when you shop. Comfort is important in finding a helmet your tot will want to wear, but depending on age and personality the look of the helmet might also dictate the one you go home with.
Here are a few other variables that might steer you to specific brands or styles:
➤ Clasp: all Nutcase (based here in Portland) models and some Lazer helmets have magnetic clasps that won't pinch skin.
➤ Adjustability: helmet straps will routinely work their way loose. Without fail, I discover my own are loose when conducting my helmet-fit spiel to a group of kids and make tightening my straps part of my fit demonstration. Sometimes dials and buckles bother (or conversely, intrigue) some kids, so keep that mind when choosing. The Autofit® system used on some Lazer helmets hugs the head, avoiding the need to make adjustments.
➤ Venting: Some styles have more vents for better air flow. I'm miserable in the summer with my heavy bike and heavy hair if I'm not in the most vented helmet on the market, but my kids have never complained of hot heads whether in a trailer or pedaling their own bikes. However, if you have a sweaty baby it's something to consider.
➤ Shape: If your kid will spend any time in a trailer, some brands are flatter in the back (Nutcase and Bern to name a couple) and will be more comfortable. Some trailers boast recessed areas for helmets, but many of us use trailers before the kids are tall enough to reach the recessed area and even so, a pointy aerodynamic shaped helmet won't recess as comfortably as a smooth one. Related, if you've got a tall kid in a front seat with a pointy helmet, you'll get jabbed in the chest occasionally.
➤ MIPS: Multi-Directional Impact Protection System is available in some helmets. If this is a feature you want, it will help narrow down your choices. When I browsed kid helmets at Clever Cycles last week, shop owner Eva Frazier tipped me off that Nutcase will introduce a MIPS helmet for the 2018 season. Clever currently carries Lazer helmets with MIPS and non-MIPS versions.
Practice practice practice
Skip this section if your kid is happy to wear a helmet (and then color me jealous). In our family, we did a lot of preemptive helmet wearing — that is, putting one on before we started to ride — just to make it a non-issue when it came time to buckle into the bike seat. It made all the difference.

➤ Practice with a ride-on toy. I didn't start biking with my first baby until he was one, but when he was eight months old we got a helmet and a horribly loud ride-on toy. He adored everything about that little truck–beeping, blinking, dials, buttons — so much so that he didn't object to donning his helmet to play with it.
➤ Practice together in the house. Wearing helmets together in the house is a wonderful way to get used to feeling the weight of a helmet on your head and get proficient at adjusting straps when you're not in a rush to get out the door and on the bike. There's a chance this practice might start with only you wearing your helmet around the house before your tot is ready to join you.
➤ Practice with toys. I've made helmets, balaclavas, and mittens for my kids' stuffed animals just to help get them in the mood. I'm not very crafty and have found paper and tape or cut-up mateless socks do the trick.
Decorate
Art-loving toddlers and older kids might enjoy personalizing their helmets.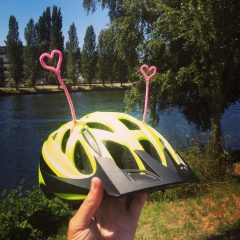 ➤ Stickers! I first saw Fun Reflector reflective sticker sets (based in Beaverton) years ago at Clever Cycles and have purchased several there and ordered even more. Even regular stickers will do the trick for making a helmet fun, but these bike-specific stickers are strong and stand up to the weather. Other sticker operations can make custom vinyl stickers (I order these each time the kids go up a bike size to ensure they will use the new, bigger bike). If you've used a local print shop for this, I'd love to hear your recommendations in the comments.
➤ Pipe cleaners! I've run a lot of helmet decorating stations at street fairs and love making helmet antennas out of pipe cleaners. Simple antennas are pretty fun, but flowers and coils are great, too.
Especially decorative helmets
I'm sure I don't know all the cute helmet options out there, but here are some I've come across:

Wipeout Youth Dry Erase Helmet by Triple Eight is made to draw on! I saw these at REI a couple years ago, but they might only be at big-box stores now.
Another brand you'll find at big-box stores are Raskullz which feature mohawks and amazing animal looks. (Note that as of today they are among the bike brands owned by Vista Outdoor, a company that has come under scrutiny for their support of the National Rifle Association.)
Two models of Lazer helmets (P'Nut and Nut'Z) have an optional Crazy Nutshell snap on cover. I know several little fire fighters who rarely take off their helmets they love them so much.
This one is probably more for the adults as I know a few fashion-conscious grown ups who have ordered YAKKAY helmets and covers, but since their small is listed as 51-54cm (the same size as Nutcase youth small) they seem worth mentioning here.
I'm giving up!
So what happens when you've tried every trick in the book and nothing seems to work? There's a very good chance that as soon as you start moving, the uncomfortable helmet will be forgotten.
There are also times when you're far from home and the helmet suddenly becomes unbearable. If you're also a baby-wearer and bring your carrier with you everywhere, it might be easiest to remove the helmet and strap the fussy toddler to your back and walk the bike a bit. Or, leave the toddler seated on the bike without the helmet and walk the bike (I don't know if this follows the letter of the law, but I've done this many times). Just know we've all been there and it won't last forever and you'll both be helmeted and rolling again soon.
Free and cheap helmets
There are three sources for reduced-price kid bike helmets listed on the PBOT Bike Resources on a Budget page:
Doernbecher Children's Hospital Safety Center
700 SW Campus Drive Portland, OR 97239
Monday – Friday; 9:30am-3:30pm (or by appointment)
503-418-5666
safety@ohsu.edu

Randall Children's Hospital Safety Center
501 N Graham St. Portland, OR 97227
Monday – Thursday 9:00am-12:00pm (or by appointment)
503-413-4600 – please call before visiting to ensure they are open

Bikes for Humanity PDX
3354 SE Powell Blvd. Portland, OR 97202
503-496-6941
b4hpdx@gmail.com
And coming up Saturday, March 24th you can get free bike helmets for low-income children at the Brian Duncan Bicycle Helmet Giveaway hosted by Portland Police Bureau: Youth Services Division and Alberta Abbey.
The legal stuff
Per Oregon Revised Statute (ORS) 814.485 anyone under 16 is required to wear a helmet on a bike. Helmets generally fit babies starting around age one. For advice on whether you should ride with kids younger than that, see this 2009 BikePortland.org post by Marion Rice, Carrying your infant by bike: How young is too young? (I plan to revisit that topic soon!)
Thanks for reading. We've had a great response to this column! Feel free ask questions in the comments below or email me your story ideas and insights at madidotcom [at] gmail [dot] com.
— Madi Carlson, @familyride on Instagram and Twitter
Browse past Family Biking posts here.
Get this and other BikePortland posts delivered directly to your inbox.
BikePortland needs your support.