[Publisher's note: Welcome to our Family Biking column! I'm thrilled to share Madi's insights and experiences here on BP. Please give her a warm welcome and let's thank Clever Cycles for helping bring this content to the community. — Jonathan]
Hi. I'm Madi.
I bike for all the typical reasons — it's cheaper than driving, it's safer than driving, it's simpler than taking the bus, it's healthy, it doesn't pollute, it's usually faster than all other modes of transportation — but mostly because it's tremendously fun. Even with kids. Especially with kids. I love to share that sense of fun and ease with others in the hopes of encouraging more families and individuals to bike even just a little bit more often. I've found focusing on the fun stuff to be an effective way of promoting bicycling as transportation (but I also reserve the right to discuss statistics and badmouth car traffic).
I ride with my two sons, aged 10 and 8, and our conveniently-basket-sized dog. I've been family biking since my first son was one year old and have gone through several bike iterations along the way. I like to think there are a lot of different right answers and very few wrong answers when it comes to choosing a family bike.

Our Family Biking column is sponsored by Clever Cycles.
➤ Read past entries here.
I've led countless Kidical Mass family bike rides and many family bike camping trips. I'm a League of American Bicyclists League Cycling Instructor, though I feel nothing has honed my bike handling skills better than chasing after two swerving kids on balance bikes and nothing has made me quicker and stronger than racing with a trailer full of impatient toddler bladders to the closest park with a bathroom.
I became carfree three-and-a-half years ago and before that I was car-lite for several years. I contemplated not even getting a driver license upon moving to Portland, though mostly that was to save a few bucks and skip waiting in an extra line. That's because being frugal and impatient are two of my strongest traits — both of which conveniently tie into why I believe so strongly in bicycling for transportation. I ended up getting the license after all, though I'm happy that I haven't had a reason to drive since.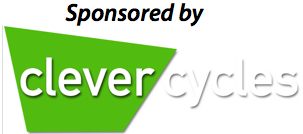 We're fairly new to Portland, having moved here from Seattle six months ago, so some of my observations will be through the lens of a newcomer. I've been enamored with Portland since my first visit to Clever Cycles with the kids seven years ago. We visited often to do events like Fiets of Parenthood and Kidical Mass and finally decided to make the move.
Bicycling is in my blood: my mother was born in the Netherlands and was the only one to leave so I grew up visiting every few years in the summer, borrowing or renting bikes and seeing my cousins put their babies in little bike seats. So while I believe Portland is "The Best Bike City in America," I'm well aware of what could be. My method for coping with unpleasant American streets is to ignore the grisly reality and pretend I'm pedaling along a Dutch bike path, and I find I have to pretend much less in Portland than in other cities.
I'm excited to talk with you each week about biking with kids of all ages, family bike options, kid bike options, other gear and accessories, bike camping with kids, and more!
Anything specific you'd like to hear about? Comment below or email me: madidotcom [at] gmail [dot] com.
— Madi Carlson, @familyride on Instagram
Never miss a story. Sign-up for the daily BP Headlines email.
BikePortland needs your support.