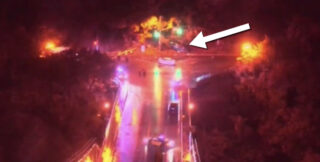 A 71-year-old man died Saturday night while driving on the St. Johns Bridge. Keizer resident John Crook was the 41st person to die on Portland roads this year (we had 35 deaths at this time last year).
Crook's death comes one year after hundreds of Portlanders biked onto the bridge and held a vigil for Mitch York, who was killed by a reckless driver at the same intersection.
In Saturday's collision, police say Crook was driving a Kia Optima westbound on the bridge "at a high rate of speed" and failed to stop for the red light at Bridge Avenue. Crook ran into someone driving a Ford F-150. The impact from the collision was so powerful that the truck — at nearly twice the size of the small Kia — flipped over and landed off the roadway on its roof. The two people inside the truck sustained what police call "non life-threatening injuries" (a term that bothers me, because it glosses over what could be horrific, life-altering injuries).
This crash underscores that the design of the St. Johns Bridge, that advocates have been concerned about for many years, is unsafe for everyone. People drive dangerously on the bridge in part because the design lets them. The Oregon Department of Transportation, who ignored recommendations (from the City of Portland, advocates, Metro, and engineering consultants) for a safer cross-section in 2005, has kept the bridge as a four-lane thoroughfare. The wide-open design gives drivers a false sense of security and encourages dangerous behaviors that put human lives at risk.


Joel Schrantz, currently serving a 42-month prison sentence for killing Mitch York, also thought he could approach the bridge at a high rate of speed.
The time has come to re-think the lanes on the St. Johns Bridge. There's no reason to have four standard lanes on the bridge when streets on both ends have only two. It's unfair for ODOT to hide behind "freight interests" while so many people suffer from the negative impacts of the current bridge design.
Thankfully, activists have not forgotten about the need to update the bridge. While ODOT remains the big elephant in the room (or should I say dinosaur), there are rumblings of renewed activism around this bridge.
We're in contact with a St. Johns resident who's pushing for a Better Block-style demonstration project that would test a two-lane cross-section on weekends when traffic is light. A group of students in Portland State University's Masters of Urban and Regional Planning program have also expressed interest in making the bridge safer.
We hope to have more to report soon. Stay tuned.
— Jonathan Maus: (503) 706-8804, @jonathan_maus on Twitter and jonathan@bikeportland.org
Never miss a story. Sign-up for the daily BP Headlines email.
BikePortland needs your support.