You've probably heard by now that despite last month's conflagration in the Columbia River Gorge, Portlanders' worst fears about the destruction didn't come true.
But keeping track of where you can and can't hike and bike through the Gorge right now is more complicated than usual. That's where the Friends of the Columbia Gorge come in.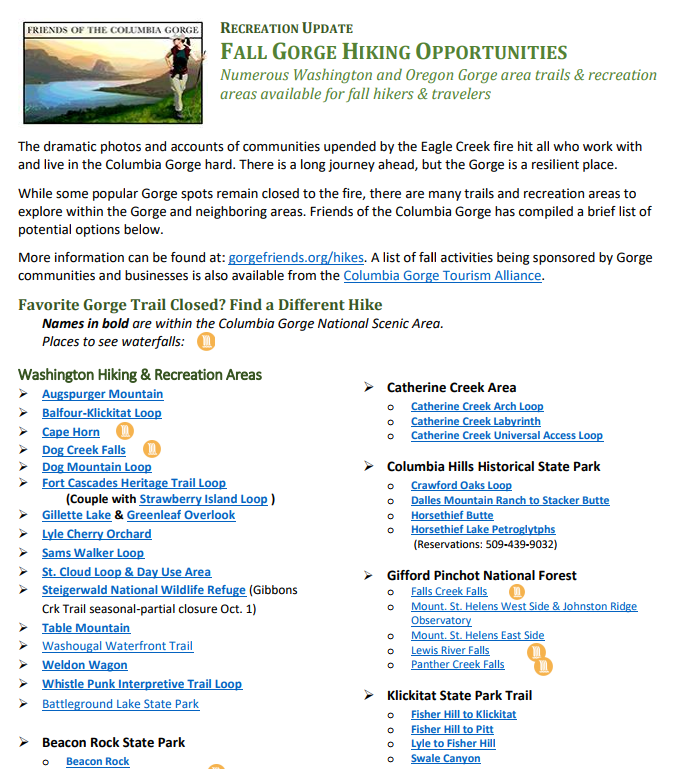 "There is a long journey ahead, but the Gorge is a resilient place," the group writes in its online list. "While some popular Gorge spots remain closed to the fire, there are many trails and recreation areas to explore within the Gorge and neighboring areas."
As KGW News and the Statesman Journal reported Monday, keeping the Gorge as vibrant and interesting as it is may depend on making more people aware that our local wonder of the world is still a good place to visit. Small businesses and their employees in the area could hardly afford to lose two weeks' business when they were closed for the fire itself; they're now hoping for a burst of fall tourism to help mitigate those losses.
But getting out to the Gorge this fall might be a great idea whether or not you spend money there. Nature lovers know that seeing the first stages of recovery can be as magnificent, and as psychologically reassuring, as anything this planet has to offer.
— Michael Andersen: (503) 333-7824, @andersem on Twitter and michael@portlandafoot.org
Never miss a story. Sign-up for the daily BP Headlines email.
BikePortland needs your support.