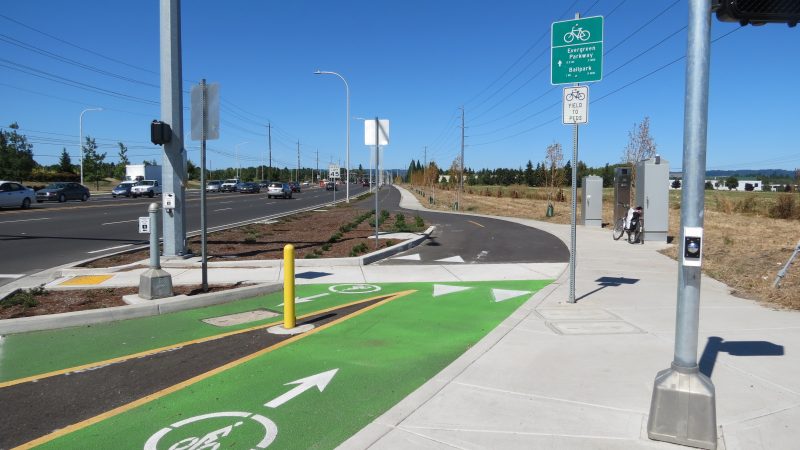 – Words and photos by BP Subscriber and Washington County Correspondent Naomi Fast
I took a tour of some of Washington County's hot-off-the-asphalt-truck bicycle infrastructure, and my verdict is in: it's worthy of inviting guests from Portland to come check it out.
So come take a virtual ride with me!

The County spent $18.3 million to widen Cornelius Pass road between Cornell and Highway 26. The project included new sidewalks on both sides of the roadway, a buffered bike lane on the west side of the road, and a separated, two-way bike path on the east side (among other things).
Ready to ride? Let's go…
For those who already bike around here, for now this particular bikeway could seem more like a destination itself than a way to a destination, like biking to a bicycle infrastructure theme park. It's an earned respite from biking right next to cars… but alas, it only lasts a mile.
We could take the MAX to Hillsboro, but I thought we'd just bike it. Hope you don't mind the extra 7.5 or so miles of biking. It's mostly flat, by the way, in case you already biked a bunch of hills on the way over here.
My route from the Beaverton Town Square/Beaverton Transit Center MAX station vicinity: Go to SW Lombard Ave and turn right, then left on SW Center St, right on SW 124th Ave and left on SW Fairfield street. Once we (fiiiiinally) get a green light at the intersection, cross Cedar Hills Blvd into the Winco parking lot. This part is because there's no bike lane on Cedar Hills at this spot. You could also ride the sidewalk to Jenkins if you want, but be prepared for lots of driveways. I personally don't ride on Cedar Hills along here; in white water rafting terms, I'd rate it Class 4 rapids. Class 5 if we count cell phone use behind the wheel as hidden rocks.
Once in the Winco lot we'll make our way northwest-ish through the lot toward Jenkins, where it's a left turn across and into the Jenkins bike lane. Oh yeah. Some Beaverton utilities contractors (at least I guess that's who) put a line of bumpy asphalt in a stretch of the bike lane here recently. Sorry about the rough ride. Let's hope that's a temporary thing.
From here it's a straight ride into Hillsboro. No; we didn't make a wrong turn off Jenkins: the arterial turns into W Baseline Rd. It actually changes names again later—but only if you accidentally fly past our turn. We've already got plenty of street name changes without keeping track of that one.
Alert: road construction on SW 158th is affecting the Jenkins bike lane approaching the Jenkins & SW 158th intersection, which you'd also cross to get to Costco. Expect to merge into the lane with big SUVs and such. Once through the intersection it's right back into the Jenkins bike lane.
Also: later down the road, just after SW 173rd, take care at the MAX tracks that cross Baseline. You'll need to turn your bike slightly to take the tracks at a right angle.
Eventually, after a bunch of (probably uneventful, in spite of the MAX tracks) riding next to lots of loud, fast cars, and passing through intersections you still can't believe the size of, you'll reach SW Cornelius Pass Rd. Turn right, which is north, toward the 26. From here, it's another 1.7 miles or so with bike lanes all the way to NW Cornell Rd (where, coincidentally, there's another Winco). At this point, SW Cornelius Pass is now NW Cornelius Pass.
The northbound Cornelius Pass bike lane now officially ends at Cornell. At the intersection, we're clearly and easily directed through the intersection and led onto the brand new two-way bike path with adjacent walking path, complete with very helpful wayfinding signs and markings (I think I may be most excited about the wayfinding signs!).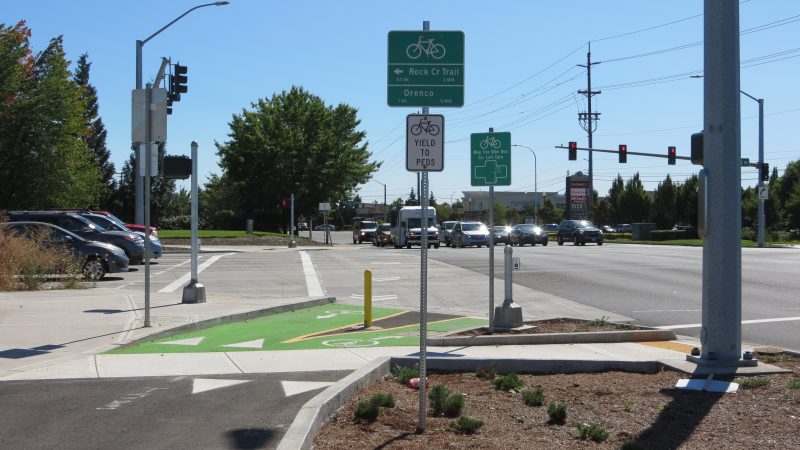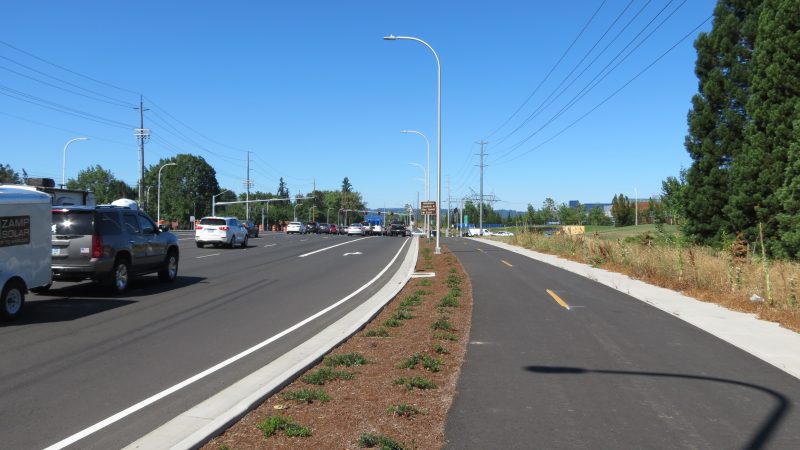 There's still a southbound bike lane on Cornelius Pass for anyone who's biking south on that side and doesn't want to cross over to use the two-directional bikeway. But the northbound side may represent one of those rare times when the law says, however confusedly, that we must use the bikeway. I shall defer to law experts on that.
Now here's a possible news scoop: on the bikeway, at the intersection with NW Evergreen Pkwy, we come upon what I believe to be Washington County's very first bicycle signal! At least, it's the first I've encountered west of Portland. Confirmation of this breaking news is pending further investigation. And there are green bike boxes everywhere!
It's starting to feel like home.
Note: I did have trouble triggering the signal to get a green bike light from the northbound side. I tried lingering back. I went all the way forward, which feels too far forward to wait even though that's where the diamond is. After three or so light cycles I finally just used the crosswalk button to get a green bike light. After crossing, I checked out the triggers on the other side, which worked much better.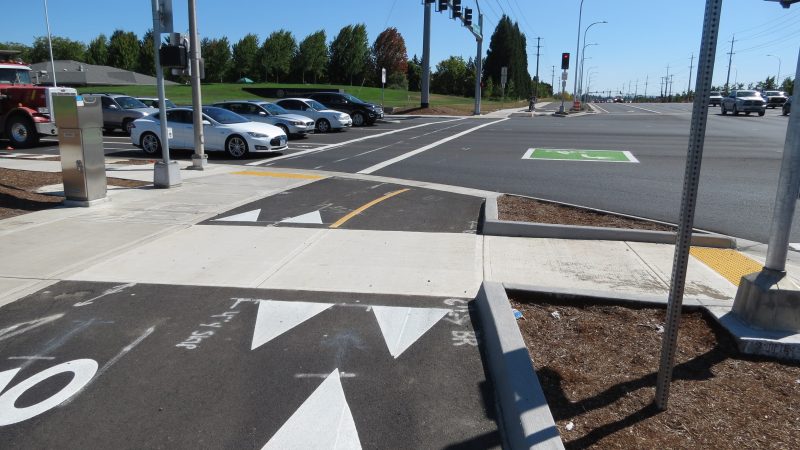 While I was testing the southbound side, someone else had trouble on the northbound side. His solution was to go while the right turn arrow was flashing yellow for those in the car lane. Problem is, during that flashing yellow arrow turn phase, the bike signal still gives us a red. The signal issues are a little bit messy right there, IMO. And for the record: I cannot stand the flashing yellow left turn arrows that the county uses all over the place. They give me the shivers.
Now for the answer to the burning question: How far does this thing go?! Does it go all the way to the Rock Creek Trail underpass?!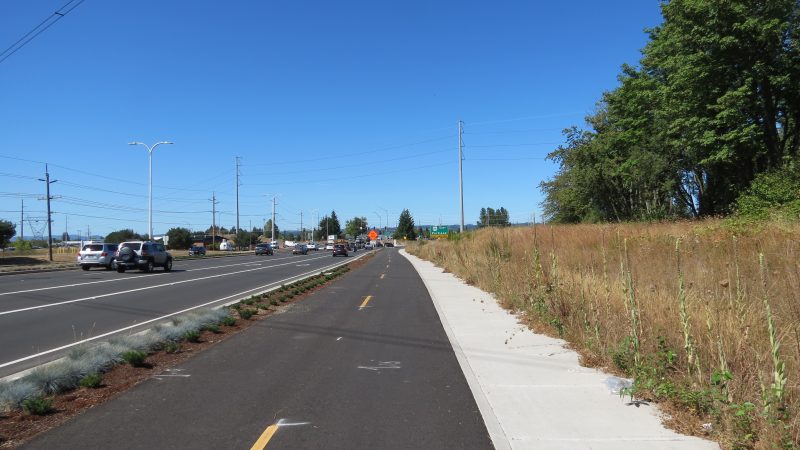 Spoiler alert: The bikeway ends at the 26. But it's a fun mile while it lasts.
These kinds of bicycle improvements feel wonderful and welcome, but also a bit weird. They're a teaser for how great the potential is for bike commuting (for commerce and such) across this big county. But for those who already bike-commute around here, for now this particular bikeway could seem more like a destination itself than a way to a destination, like biking to a bicycle infrastructure theme park. It's an earned respite from biking right next to cars… but alas, it only lasts a mile. My roundtrips that day took me closer to 30 miles total, according to my bike odometer.
On the other hand, this bikeway is connected to major east-west arterials that have bike lanes (heads up: as of August 25th, Evergreen Pkwy still needs its bike lane stripes painted back in after paving). And the bikeway is in a spot that could potentially be part of someone's bike route to actual destinations, like McMenamins on Cornelius Pass, Fred Meyer off Imbrie Dr., a gym for post-ride yoga & arm workouts, and the Hillsboro Hops field.
Seriously, come check it out in person! Nice work, Washington County. Thank you.
— Naomi Fast, @_the_clearing on Twitter
Never miss a story. Sign-up for the daily BP Headlines email.
BikePortland needs your support.