At long last the Oregon Timber Trail is open for business.
After a soft-launch back in March, the 668-mile backcountry mountain bike route is now fully mapped and all the resources you need to research and plan your trip can be found on the official website.

For the past 18 months the people behind this amazing undertaking have worked tirelessly to bring this to fruition. They've developed relationship with locals and land managers, logged nearly 1,000 volunteer hours (in June alone!) and 13 days of trail maintenance so far this year, worked with eighth-graders on a cultural and natural history guide, developed a comprehensive route guide, and much more.
The result is something very special. "A world-class bikepacking destination and North America's premiere long-distance mountain bike route."
The route consists of four tiers that can be done by themselves or strung together for a bigger adventure. Think of it as the Pacific Crest Trail, but designed specifically for mountain biking with over 90 percent of the the route unpaved and half the mileage consisting of singletrack.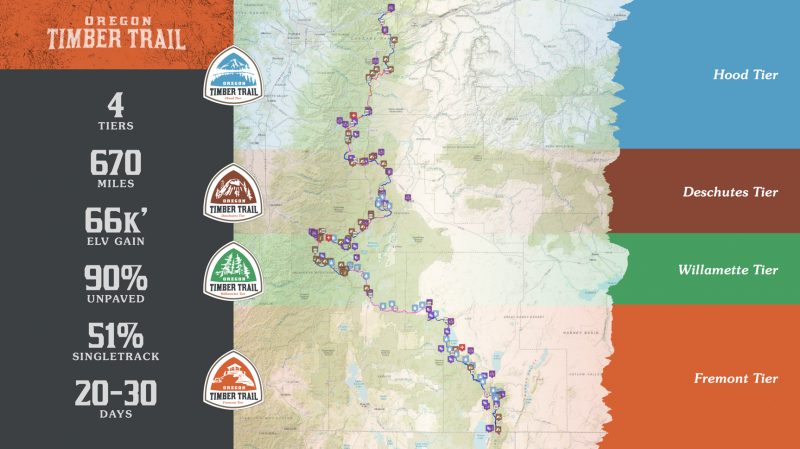 Here's more from and OTT press release:
Riders depart from the California border, just outside of Lakeview, the highest town in Oregon. Within the first ten miles, riders will crest 8,000 and view the ride north. Ahead, the Fremont Tier is 190+ miles long, followed by the Willamette Tier at 140+ miles, then the 110+ mile Deschutes Tier, and finally the Hood Tier at 200+ miles. Dip your tires in the Columbia River, lay in the grass, and raise a toast to yourself — you just rode a mountain bike across the state of Oregon.
(Now wipe the drool from your desk.)
If you'd like to go deeper into this project and volunteer check out the upcoming Trail Stewardship Campout coming August 25-27th. At this event you'll be able to work and ride on the trails while camping with friends old and new.
What are you waiting for?! Get over to the website and start planning your adventure today.
And don't forget to follow the latest updates from the Oregon Timber Trail Alliance crew via Instagram and Facebook.
— Jonathan Maus: (503) 706-8804, @jonathan_maus on Twitter and jonathan@bikeportland.org
BikePortland is supported by the community (that means you!). Please become a subscriber or an advertiser today.