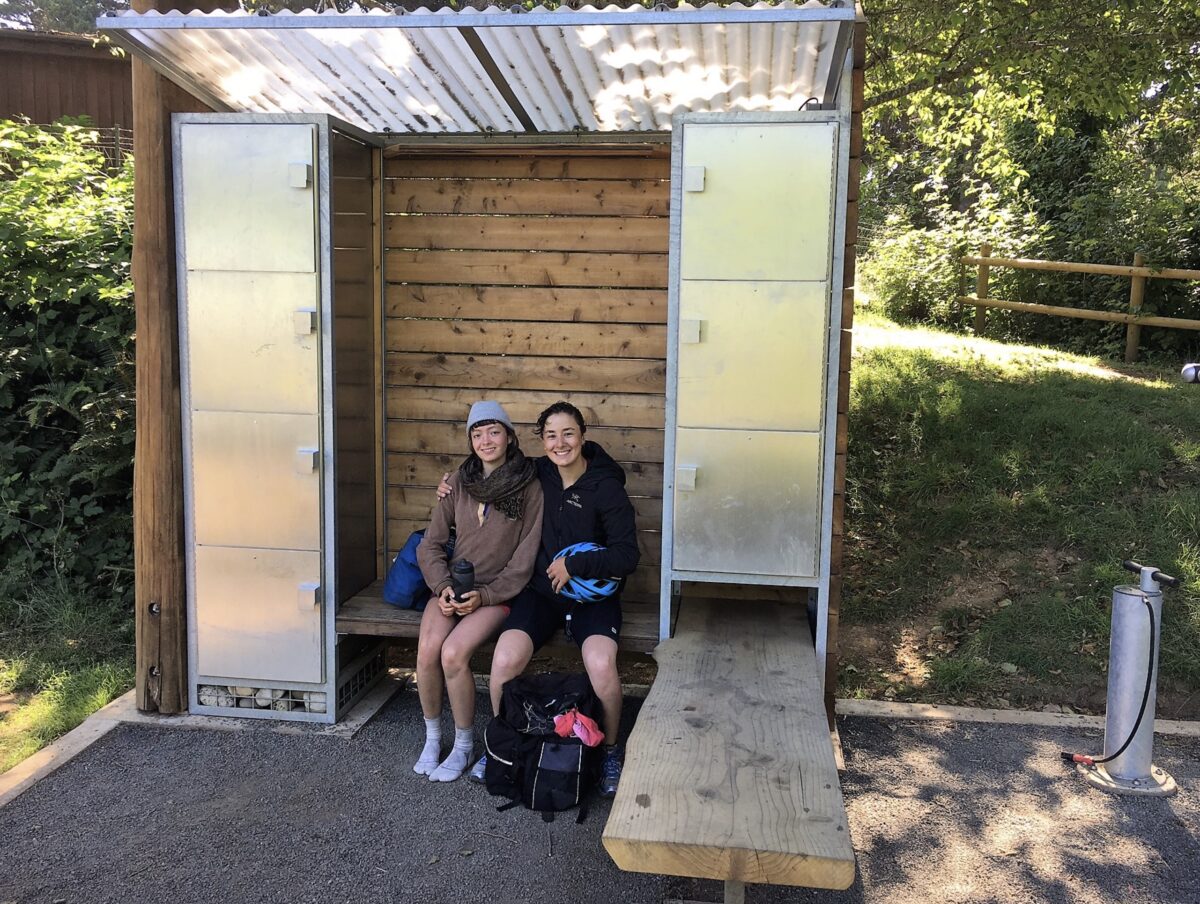 The State of Oregon's efforts to make bicycle touring more comfortable continues to reach new heights.
We've been covering the bicycle tourism beat for a long time and one of the coolest initiatives Oregon Parks Forever (a nonprofit that raises money for state projects) has taken on over the past decade or so is a strategy to upgrade and expand hiker/biker campsites at popular parks. As bicycle camping has become more popular and has spread to a wider range of riders over the years, Oregon has upped its game to meet demand.
Not content to simply offer a special place to sleep for carfree campers, the bar has been raised to include covered shelters, USB charging ports (e-bike riders can charge batteries in bathrooms), fix-it stations, and even gear and food storage lockers. After a full day on the bike, having a bit of extra comfort — and the ability to get your body and your gear off the (sometimes wet) ground and onto a dry, covered spot, means everything.
We know of at least 10 of these upgraded sites statewide and there are a few dozen planned. In 2014 we reported that Oregon Parks wanted to build 19 of them along popular cycling routes across the state. In 2015 they made good on those plans and added major upgrades to hiker/biker sites at Milo McIver, Champoeg, and Bullards Beach state parks.
Oregon Parks Forever (formerly Oregon State Parks Foundation), a nonprofit that raises money for state parks, has been instrumental in funding these hiker-biker pods. In 2020, they made a $39,875 donation (thanks to their members and grants from Juan Young Trust, REI, and Travel Oregon) to pay for installing new pods at three more locations — including Honeyman State Park just south of Florence on the Oregon Coast.
According to Oregon Parks Forever, the new pod at Honeyman includes a charging station, lockers, water filling station, repair station with an air pump, seating areas, and a new fire pit. Communal gathering spaces are also a big part of the design. This is the seventh hiker-biker pod they've funded on the Oregon Coast and it joins existing ones at Fort Stevens, Devil's Lake, Cape Blanco, Harris Beach, Cape Lookout and Nehalem Bay. "Expanding services for recreational bicyclists from around the world will promote increased physical activity, decrease car traffic, and contribute to economic development by attracting more bicycle tourism," reads a post on the Oregon Parks Forever website.
Oregon Parks Forever Executive Director told me yesterday that two more pods will be installed by this June at South Beach and Beverly Beach and their current plan includes nine pods, each costing about $16,000. "They've gotten tremendous feedback," Miller said. "People tell us these are the best hiker/biker sites on the coast — much better than anything in Washington or California."
These amenities can often make-or-break a bike trip. It feels great to know the State of Oregon cares about bicycle travelers. Thanks to everyone involved in building these. We can't wait to see more them!
---
(Note: Remember that even when a State Parks campground is "full," bike riders are still allowed to camp. And fees for these sites are only $5 to $6 per night. Miller also strongly recommends bringing a padlock to keep your stuff safe in the provided lockers. Learn more at this helpful page on Travel Oregon's website.)