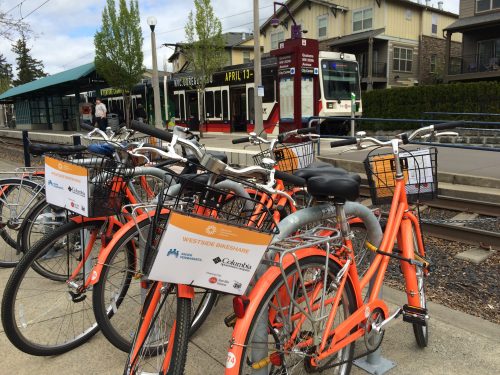 Employees of two Washington County corporations can now take advantage of free bicycles to make that "last-mile" into work a bit easier (and more fun) thanks to a bike share program that launched earlier this month.
The Westside Transportation Alliance has partnered with Kaiser Permanente's Westside Medical Center and Columbia Sportswear's Amberglen call-center on a pilot project of 30 bikes spread across three stations. The hub of the system is the light rail station at NW 205th and Quatama Road in Hillsboro. The system is open to anyone with a Kaiser or Columbia email address. The two companies have a combined workforce of about 1,300 people.
The bikes come with a basket, front and rear lights and a lock. The rental technology is based on software created by the Open Bike Inc., a social venture company founded by former Intel employees. You might recall our coverage of their first project on the Intel campus in 2013. The smartphone-based bike rental technology has since been used by the Go by Bike/OHSU system in South Waterfront and on Nike's World Headquarters campus in Beaverton (Nike's system has since been supplanted by Biketown).


To rent one, employees must first sign-up online in order to receive a validation code and system phone number. When someone wants to rent a bike, they send a text to the system phone number with two things: the location code (either "MAX" for MAX station, "KP" for Kaiser Permanente, or "CS" for Columbia Sportswear) and the number on the rear fender of the bike. The system texts back the combination of the u-lock and users have three hours before the bike must be returned.
Brad Biddle from Open Bike Inc. said while his system has limitations (like no GPS tracking for one), it's perfect for situations like this. "It's extremely cheap to implement, as bike share systems go, and perhaps can fill a particular niche." Biddle and his team are working on a "2.0" version of the technology that they hope to complete and release as open-source software soon.
"We're thrilled to see community members picking up the OBI tools and using them to create innovative, low cost bike sharing systems," Biddle shared with us via email last week. "WTA has been a key contributor to the Open Bike Initiative project from its inception. This implementation of a 'new and improved' OBI system is an exciting step, and we're looking forward to working with WTA to enable others to implement their own versions of this system, in the Portland area and around the world."
Other agencies involved in making this project a reality include Metro, the Washington County Bicycle Transportation Coalition (who donated the bikes), Go By Bike, TriMet, and the Transportation Research and Education Consortium (TREC) at Portland State University who's evaluating the results of the project. The Westside Bike Share Pilot will run through August. Learn more at the project website.
— Jonathan Maus: (503) 706-8804, @jonathan_maus on Twitter and jonathan@bikeportland.org
BikePortland is supported by the community (that means you!). Please become a subscriber or make a donation today.