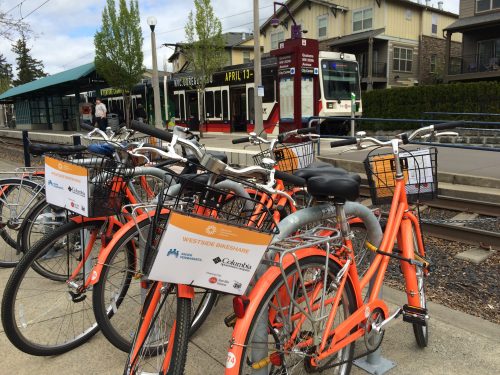 Employees of two Washington County corporations can now take advantage of free bicycles to make that "last-mile" into work a bit easier (and more fun) thanks to a bike share program that launched earlier this month.
The Westside Transportation Alliance has partnered with Kaiser Permanente's Westside Medical Center and Columbia Sportswear's Amberglen call-center on a pilot project of 30 bikes spread across three stations. The hub of the system is the light rail station at NW 205th and Quatama Road in Hillsboro. The system is open to anyone with a Kaiser or Columbia email address. The two companies have a combined workforce of about 1,300 people.
The bikes come with a basket, front and rear lights and a lock. The rental technology is based on software created by the Open Bike Inc., a social venture company founded by former Intel employees. You might recall our coverage of their first project on the Intel campus in 2013. The smartphone-based bike rental technology has since been used by the Go by Bike/OHSU system in South Waterfront and on Nike's World Headquarters campus in Beaverton (Nike's system has since been supplanted by Biketown).