Where should we build bike parks and pump tracks? Are there parcels of vacant land where a network of dirt cycling trails could be stitched together? Should we consider improving and/or expanding bicycle access on trails in Forest Park?
These are the questions the City of Portland wants help answering as they move closer to the completion of Portland's first-ever Off-Road Cycling Master Plan.
After 14 months of meetings with an advisory committeee the Portland Bureau of Planning and Sustainability (they're leading the project but the parks and transportation bureaus are also involved) released a virtual open house today. BPS has also released dates for four open houses and two community events in April.

The star of the virtual open house is an interactive map that displays a citywide inventory of parcels that have been vetted and analyzed for their cycling trail potential. The map includes places like Powell Butte and Forest Park where you'd expect off-road cycling to happen; but it also includes places with perhaps unexpected cycling potential. Overlook Park in north Portland for instance could be a perfect spot for a short singletrack trail or a bike park.
The map separates out the potential sites into three categories: "potential opportunity," "less suitable," and "unsuitable."
You can click on a property, learn about its potential, and then leave a comment directly on the map.
While the City reaches out to the public with a broad agreement that Portland is ready for more off-road cycling opportunities in park areas throughout the city; there's one key issue simmering just below the surface. Yes, you guessed it — Forest Park.
The debate about how best to improve bicycle access in Forest Park has plagued Portland for well over a decade. The city tried to make progress on the issue in a lengthy public process that ended in September 2010. Unfortunately they failed and the process only led to more frayed nerves.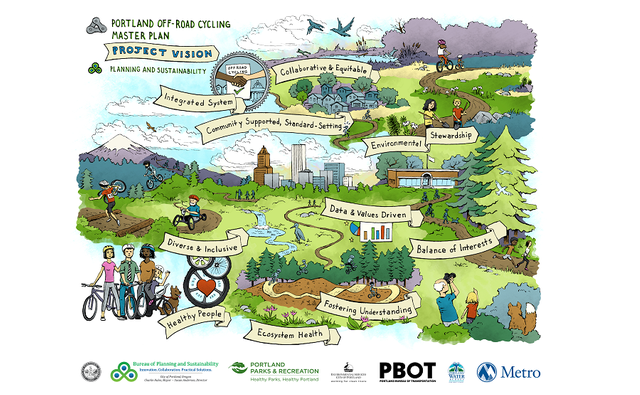 The hope for a new master plan is that it would establish a policy and planning framework that would help the city make fair decisions about off-road cycling not just in Forest Park but in parcels throughout the city. The goal is to connect Portlanders of all ages and abilities with places near their homes where they can ride in the dirt. The vision includes a network of bike parks (like a play-gym for bikes where kids can test their skills on different features), pump tracks, and singletrack trails.
While much of the new plan enjoys the full support of the committee (and soon the public, once more people learn about it), the Forest Park issue is still a major sticking point.
At a meeting last week of the Off-Road Cycling Plan Advisory Committee there was sharp disagreement among committee members about how to approach the Forest Park issue. The city said that bicycle access on Wildwood and Maple trails should be off the table before discussions even begin. But at least one committee member objected to that idea, saying he wasn't aware that the committee ever agreed to that.
While everyone on the committee realizes that bikes don't belong on the entirety of Wildwood and/or Maple, some members feel there might be specific portions where bicycle access could be safely and sustainably accomodated — especially where doing so would open up loops with other roads and trails.
Given the importance of Forest Park to all types of users, the public outreach stage of the master plan process takes on even greater urgency. Please get involved and leave your feedback.
— Jonathan Maus: (503) 706-8804, @jonathan_maus on Twitter and jonathan@bikeportland.org
BikePortland is supported by the community (that means you!). Please become a subscriber or make a donation today.