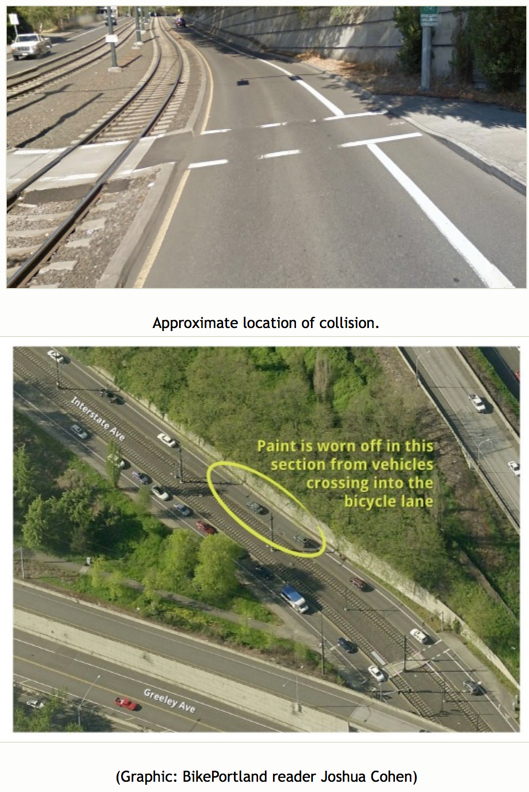 Instead of facing a jury in a case they feared could go against them, the City of Portland agreed today to pay $525,000 to the family of a man seriously injured in a 2013 crash.
Mike Cooley, who was 59 at the time, was on his way home from work at the downtown post office when he was hit from behind by someone driving a large white truck. Cooley was riding northbound on North Interstate Avenue just north of Greeley. It's a stretch of road with a terrible crash history and one that's known for being narrow and very stressful. The City of Portland's Vision Zero collision map shows 19 bike-related injuries on that stretch from 2004 to 2013.
In addition to narrow lanes, people frequently fail to maintain control of their motor vehicles and swerve into the bike lane, causing the striping to fade. There's also a high speed differential between bicycle and automobile users due to the hill in the northbound direction.

Cooley's wife Lori told us in 2015 that the family's attorney and a private investigator they hired went to the location and were shocked at how dangerous it was. "He and our attorney sat there at that spot where Mike got hit and they were just appalled at the number of close calls," Cooley told us at the time. "They just could not believe it when they saw it with their own eyes how dangerous that is. … I don't understand how nobody could be doing anything to make that safer when there's been so many injuries."
The person who hit Cooley has still never been found.
Cooley's family filed a $21 million lawsuit against the City of Portland, TriMet and the Oregon Department of Transportation, citing negligence on a stretch of road that was known to be dangerous
Here's more on the settlement decision at City Council today from The Oregonian:
"…Cooley underwent at least nine procedures and spent more than $1.7 million on medical and rehabilitation expenses as of June 2015, according to a lawsuit the Cooleys filed against the city of Portland, TriMet and the Oregon Department of Transportation that month…

Cooley was wearing a reflective vest and using multiple lights when the truck hit him at about 11:30 p.m. June 15, 2013. The bike lane was too narrow and the area lacked proper warning signs, visible bike lane paint and sufficient lighting, the suit said. A concrete wall, electrical boxes and an inability to control bike speed on the hill also made the city-maintained road hazardous, it said.

City attorneys advised council members that settling with the Cooleys rather than continuing to fight the lawsuit in court would be the city's cheapest option. The case had been scheduled to go before a jury in January."
In a filing with City Auditor's office, the City of Portland's Liability Claims Manager Randy Stenquist wrote that, "The claims in the lawsuit have been investigated by Risk Management Services and the City Attorney's Office. The investigation indicates there is risk the City may be found liable. Therefore, in order to avoid the risk of an adverse jury award, we feel it is prudent to compromise the lawsuit at this time."
Just two days ago we reported that the City of Portland and State of Oregon just settled a separate lawsuit under similar circumstances. The family of a man who was killed biking in a section of Northeast Lombard with a well-known bike lane gap sued them for $3.6 million. They settled that case for $23,000 and ODOT is currently building a path at the location that will vastly increase safety for future users.
We aren't aware of any actions by PBOT to improve safety on the section of North Interstate where Mike Cooley was hit.
— Jonathan Maus: (503) 706-8804, @jonathan_maus on Twitter and jonathan@bikeportland.org
BikePortland is supported by the community (that means you!). Please become a subscriber or make a donation today.