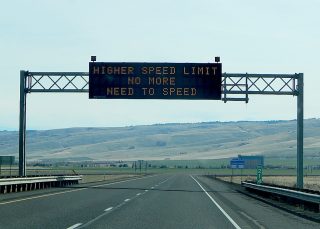 The faster a vehicle travels, the more likely it is to hurt its operator or other road users. Advocates know this, first responders know this, traffic engineers know this, safety experts knows this. It's a simple concept that fuels a lot of policy and advocacy — yet some politicians are still enthralled with the idea that the benefits of going faster outweigh the human costs.
After we got our first clue about two weeks ago, we've now confirmed that the Oregon Department of Transportation has commenced an engineering report on raising truck speeds on interstate highways. The move comes after an unnamed lawmaker said they plan to introduce legislation in the 2017 session to raise the speed limit on I-5 and two other major highways.
Let's back up a bit…

In 2015 the Oregon Legislature passed a bill (HB 3402) that raised speed limits for car and truck drivers on some rural highways (up to 65 or 70 mph respectively). Legislators outside of urban areas pushed for the bill on grounds that higher speeds are necessary to make long drives more convenient and they don't hurt anyone because rural areas are so sparsely populated.
But at least one key ODOT safety expert disagreed and testified against the bill. In an interview back in June, ODOT Traffic Safety Division Manager Troy Costales told me he urged lawmakers to vote no. "My recommendation was that they not do that," he said. "While you can engineer the road and the vehicle, you're not engineering the human body to be able to sustain any more impact… In other states when speeds have gone up, fatalities and injuries have gone up. You can expect a 3-5 percent increase."
Despite that expert advice, legislators pushed ahead and got the votes they needed. Oregon's higher speed limits went into effect on parts of 11 rural interstates in central and eastern Oregon in March of 2016.
Then, just over two months later, Anita Bemrose and her three sons (ages 10, 12 and 14) were killed on one of the highway sections where speeds were raised. Bemrose was stopped and waiting to make a left turn off the highway when she was rear-ended. The impact pushed her and her sons into oncoming lanes where another person slammed into their car.
That tragedy spurred the Oregon Department of Transportation to lower the speed limit in that segment of highway along with three others. For the Bemrose family, it was too late.
Now I've learned of yet another attempt to increase speed limits on Oregon highways.
On November 21st, ODOT published a notice about an upcoming meeting of their Speed Zone Review Panel. One line in the announcement caught my eye: "Agenda items include a discussion about a proposed engineering report to investigate raising truck speeds on some interstates."
With plenty of evidence that higher speeds lead to higher rates of injury and death, with ODOT's recent passage of a Traffic Safety Action Plan that makes strong verbal commitments to achieving zero traffic deaths, and with the recent rollback of speeds following a quadruple-fatal crash, I was shocked to see what appeared to be another attempt to increase speeds.
On November 23rd I followed up with ODOT to learn more about the meeting and ask why ODOT was investigating higher truck speeds.
The first person who replied was ODOT Traffic Investigations Coordinator Kathi McConnell. She said she didn't think there was any specific request to increase speeds and that ODOT was simply being proactive in this circumstance. McConnell referred to an established process the Speed Zone Review Panel follows (in accordance with Oregon Administrative Rule 734-020-0010, "Establishment of Speed Limits on Interstate Highways") wherein ODOT puts together a report to research any requests to change speed limits.
The OAR makes it clear a report is only done if someone requests a change. So I followed up with ODOT again: If that report was being presented, wouldn't that mean someone requested to increase speeds?
ODOT seemed reluctant to admit that a speed increase was on the table.
"Again, my understanding is that no one outside of ODOT requested a particular increase in speed limits anywhere, but that we are being proactive in preparing by taking these first steps in case anyone, including the upcoming legislature, requests a review."
— Shelley Snow, ODOT public affairs
In an emailed reply, ODOT Strategic Communications Coordinator Shelley Snow wrote, "What she [McConnell] meant was an [ODOT] administrator requested the report, not an increase! The report is the first step in the whole process and my understanding is that it is about being prepared in case there is a request down the line."
I was still not satisfied with that answer, so I asked again: Why would the panel discuss raising truck speeds and why would an engineering report be started if no one had requested higher speeds? Does ODOT staff have so much time on their hands that they can afford to create reports on issues no one is really asking about?
This time Snow repeated her understanding that no one had requested a speed increase and that the person who could answer my question, State Traffic Engineer Douglas Bish, was unfortunately out of the office. "Again, my understanding is that no one outside of ODOT requested a particular increase in speed limits anywhere," Snow wrote, "but that we are being proactive in preparing by taking these first steps in case anyone, including the upcoming legislature, requests a review."
It still didn't add up to me so I waited to hear from Bish. He emailed on December 2nd.
"The Highway Division Administrator (Paul Mather) asked our Section to start the study. He was notified by a legislator of an intention to introduce legislation to raise interstate truck speeds."
— Doug Bish, ODOT Traffic Engineer
Turns out there was a request for a speed limit increase. A legislator (Bish said he doesn't know who) has asked ODOT to look into increasing speed limits for car and truck drivers on three new sections of interstates: Most of I-5 south of Portland, a small part of I-205 and I-84 from Troutdale to The Dalles (the 2015 bill increased speeds on I-84 east of The Dalles). As part of this request Bish said ODOT plans to update a 2004 report (PDF) that took a comprehensive look at interstate speed limits.
Bish added that ODOT Highway Division Administrator Paul Mather asked the traffic engineering section to start the study. Mather was notified by a legislator who intends to propose legislation to raise truck speeds. "If the process supports the raise in truck speeds, ODOT could move forward without legislation," Bish wrote, "If study did not support raising truck speeds or if the legislator still wants to move forward, ODOT would be better prepared to have discussions."
As part of the update of that interstate speed report, ODOT will convene public meetings around the state in areas where the speed limits might be changed. The process should be completed by September 2017.
I realize this doesn't directly impact cycling in Portland; but it does impact cycling in rural areas where highways are often the only place to ride. And the larger context matters. Does our state DOT prioritize safety over speed? Should we allow our safety and transportation policy to be decided by legislators who are more concerned with votes in their district than the well-being of all road users? Is ODOT able to openly communicate transportation policy to the public in a meaningful and transparent way that allows us and them to make informed opinions about life and death issues? Should a state that's committed to zero traffic fatalities even consider raising speed limits?
Stay tuned.
— Jonathan Maus, (503) 706-8804 – jonathan@bikeportland.org
BikePortland is supported by the community (that means you!). Please become a subscriber or make a donation today.
Contact Jonathan at @jonathan_maus on Twitter, via email at maus.jonathan@gmail.com, or phone/text at 503-706-8804. Also, if you read and appreciate this site, please become a supporter.