Portland is full of seriously top-notch bike companies. Two of our faves are North St. Bags and Islabikes. They've both released new products and we've got the scoop and photos below…

North St. sews, designs, and sells their bags out of a storefront just off inner Southeast Clinton. You'll also find their growing product line at hundreds of retailers nationwide. This week they introduced a new waterproof bag called the Morrison. It's combo backpack and pannier that retails for $189 and comes with loads of great features. Below are a few more pics and more info from North St.: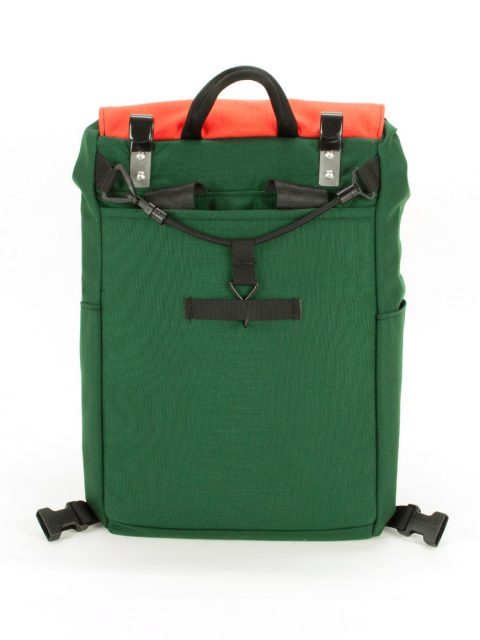 The Morrison backpack and bike pannier is designed to protect the essentials against the foul weather and integrate with the bike rack seamlessly while also having the benefit of being worn as a backpack when off the bike. The waterproof pannier integrates a classic hook and simple bungee cord mounting system to secure the bag on the bike. Easily stow the lightweight shoulder straps safe and out of the way for a hassle-free ride. Once the cyclists parks their bike, simply detach the hook and wear as a backpack. Made from fully waterproof nylon, this waterproof bike pannier also features a drawstring closure, waterproof flap and padded laptop sleeve to store and protect all of your necessities.
The Morrison Backpack Pannier Features:

● Waterproof
● Converts from backpack to bicycle pannier in mere seconds by tucking straps inside pocket and connecting the bungee hook mount
● Easy access external zipper compartment and side sleeves for quick access items
● Internal Velcro mounts enable adding or swapping out pockets as needed
● Bright lining makes finding items fast and easy
● Internal padded laptop sleeve
● Built with 1000 denier CORDURA® nylon shell fabric
● X-Pac™ VX21 waterproof ripstop nylon drop-in liner
● Dimensions: 5″ x 11″ x 17.5″ – 1100 cubic inches /18 liters
● Weight: 27.3 oz / 773 g
● MSRP: $189
And Islabikes is a UK-based company that has its USA headquarters on SE 7th near Division. They are children's bike specialists and they've just come out with two new models to fit their ever-expanding range of little customers. Check out the company press release and photos below: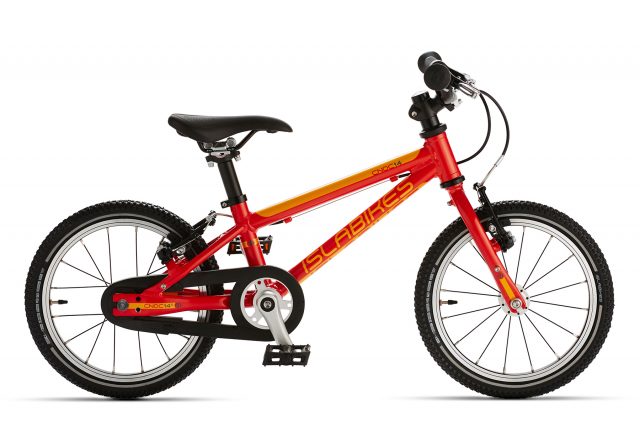 Leading children's bicycle brand, Islabikes, introduces new models, Cnoc 14 Small and Cnoc 20 as well as a host of updates that include new colors, graphics and Islabikes' own custom designed tires.

Whether learning to ride a bike or competing in a children's cross race, Islabikes are made withthe young biker in mind. The first of two new models includes the Cnoc 14 Small which is specifically designed for the tyke who's confident enough to start riding but isn't quite big enough for the Cnoc 14 large. The Cnoc 20 on the other hand, is targeted at riders around the age of 5 who are physically taller than average but benefit from not having the added complication of gears.

The development of the Pro Series led to enhanced specs among all models of the standard range, with the Creig and Luath receiving noteworthy updates. The Creig now comes with a new narrow/wide aluminum chain ring paired to Islabikes' low Q Factor chainring. This works in conjunction with SRAM's GX 10 speed rear derailleur, providing reliable, simple shifting. The Luath, like the Creig, now goes 1 x 10, offering a lightweight feel as well as 11-36 cassettes to maintain an excellent range of gears.

The Luath 24 and 26 have also been upgraded with smaller diameter handlebars, designed to improve grip and provide shorter reach to the brake levers. Islabikes have retained fender compatibility on the Luath by developing a new stealth fender mount in the rear of the seat tube, which is not only easier to fit, but also looks cleaner. Islabikes also renovated their frames across the board such as the new low Q Factor chainring, first unveiled on the Pro Series. The new lower bottom bracket heights are superior to already low stand over heights, making pedaling more comfortable and efficient for the child.

In addition to their detailed construction, Islabikes now feature their own newly developed tire featured in the Rothan, Cnoc and Beinn models. Designed with the same multi purpose tread pattern seen in the Pro Series, these upgraded tires are designed to grip well on grass and light tracks but also offer low rolling resistance to aid smaller riders. Each tire is sized proportionally to the dimension of the bike and has 72tpi casing, which delivers a more comfortable ride. Reflective sidewalls provide additional safety and remove the need for spoke reflectors, while puncture protection keeps children rolling trouble free.
Learn more about Portland-based bike companies in our Industry Ticker archives.
— Jonathan Maus, (503) 706-8804 – jonathan@bikeportland.org
BikePortland is supported by the community (that means you!). Please become a subscriber or make a donation today.
If you have questions or feedback about this site or my work, feel free to contact me at @jonathan_maus on Twitter, via email at maus.jonathan@gmail.com, or phone/text at 503-706-8804. Also, if you read and appreciate this site, please become a supporter.