"Better Naito" just became "Seasonal Naito". That's the new name the City of Portland's transportation bureau has given the project in a budget request document that was first reported on by The Oregonian today.
"When dollars are scarce, it's always good to have a low-cost option that can provide improvements and we felt like this was a good option to move forward."
— Dylan Rivera, PBOT
The city is going through its fall budget readjustment process where actual revenues are reconciled with estimated revenues. Since Portland's economy is chugging along, there's about $8 million up for grabs from the city's General Fund (which comes from business and property taxes). And with half that money set-aside for citywide critical maintenance and infrastructure projects (not just transportation-related), it's a major battle to win these funds.
It's in that context that PBOT has put in a request to fund the "Seasonal Naito" project. Before we share the plans, here's a bit of background.
For the past two summers, the City of Portland worked closely with nonprofit Better Block PDX to reconfigure Naito between the Hawthorne and Steel Bridges. Impetus for the project came out of a need to better manage north-south traffic in the Waterfront Park/Naito corridor — especially during the busy festival season when private vendors fence off the grassy portion of the park and the Waterfront Path gets packed with people. The existing, five-foot bike lane on Naito is inadequate and unsafe by today's design standards.
Because Better Naito was such a success, Mayor Charlie Hales and the partners and advocates who made it happen, wanted to make it permanent. Hales proposed a $1.5 million project to do that back in May; but it was a last-minute effort and he (quite unfortunately) failed to whip up any support for it on council.
Then in July Hales hinted that he wouldn't give up on the idea — and that he needed citizens to step up and make their voices heard. When it came to public feedback, the City heard vast amounts of praise and very few complaints from people who use Naito.
Despite what seemed like a slam dunk to make it permanent, PBOT has opted to put forward another temporary proposal.
Their request includes $200,000 in capital investment and $150,000 in materials and staffing to, "provide a high-quality seasonal delineated shared bicycle and pedestrian path on the west east side of Naito Parkway."
The project would use removable plastic bollards that would be installed at the start of the summer and then taken down when all the big festivals are over. The $350,000 would allow PBOT to do this for five years and they would take full ownership of a project that has been essentially owned and operated by a scrappy nonprofit.
This $350,000 is a much lower amount of investment than the $1.5 million Hales proposed back in May. Also in this budget request, PBOT made a less emphatic pitch for a $3.7 Better Naito project. That project would be permanent and would be a physically separated path complete with connections to other facilities. Unfortunately it's on a list of very competitive "major maintenance and infrastructure" projects (like replacing old bridges and repaving major streets) and it's unlikely to see the light of day.
Over on The Oregonian, they say a big reason PBOT has lost their enthusiasm on Naito is pushback from people concerned about increased driving times. They hired an outside firm who found driving times went up as much as two minutes during the PM peak.
That amount of delay for the sake of a more safe and humane environment on our waterfront is just unacceptable to some people — including Portland City Commissioner Nick Fish. At a Council meeting in late July, Fish shared his concerns that Portland's "livable streets strategy" was making it harder for him drive.
"When I am in a car and trying to get from point a to point b," he said, "There are huge consequences when we take a lane out of Naito or we close a street. And effectively what it means is that you just can't get from here to there."
PBOT spokesman Dylan Rivera said the agency is just hedging bets and trying to get something positive for Naito out of the fall budget process. "Dollars are scarce and we're at the point where we're competing for citywide General Fund dollars," he told us in an interview today. "In that environment, when dollars are scarce, it's always good to have a low-cost option that can provide improvements and we felt like this was a good option to move forward."
From here the City Council will have work sessions on the bureau budgets and City Budget Office will also weigh in before final decisions are made.
UPDATE: PBOT sent us over the new "City Post" flexible bollards they play to use in the Seasonal Naito project: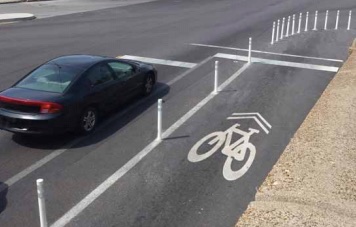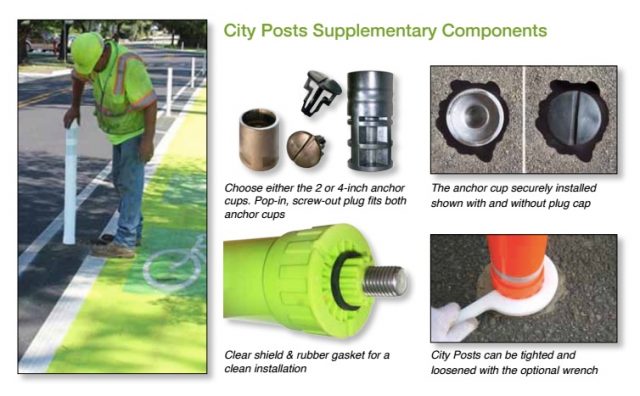 Stay tuned for a separate post on other requests PBOT is making as part of this budget process, including a major project for SE Hawthorne and Vision Zero-related projects in east Portland.
— Jonathan Maus, (503) 706-8804 – jonathan@bikeportland.org
BikePortland is supported by the community (that means you!). Please become a subscriber or make a donation today.